COPIES & CLONES
ROXY & CLIFFORD
Moon Traffic & Space Explorer series

Founded in December 1965, the Roxy Plastic Factory Ltd of Kowloon, Hong Kong had a remarkable lifespan for a Hong Kong manufacturer, being in business until dissolved in March 2003. In the period that concerns us, Roxy produced a pretty varied range of plastic toys, ranging form larger toy cars (see example below) and space toys to rather blatant copies of Spacex toys.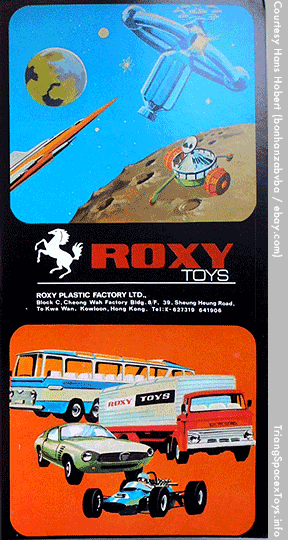 Although not exactly identical in being newly tooled vehicles in which certain details were changed to a greater or lesser degree, it's clearly evident Roxy will have been the manufacturer sued by Miner Industries and Triang (see mention in trade advert - use your browser's Back button to return here). Sadly however, although there now is an online database of court cases in Hong Kong, it doesn't appear to (yet?) include any of the infringement suits involving Lines Bros and/or Miner.
Next to the toys themselves, the Roxy Space Explorers are quite a ripoff of both Spacex and Golden Astronaut packaging and brand names. Because of the changes in some of the toys as well as the removal of certain texts on the triple cards, Roxy will have been forced to make some amends.
As a note, these court cases will have taken place in 1969, before Miner published their warning in January 1970. And I assume this will have prompted Roxy in turn to have the designs for some of their toys registered in the UK. (use your browser's Back button to return here)
Judging by the presence of both early and later toy versions on the "Moon Traffic" cards, this must have been a second brand name that was used concurrently with the "Space Explorers" series.
Roxy sold their toys under their own brand, but also supplied toys to distributors/importers with their trademarks replacing the Roxy logo on the packaging. Clifford Toys marketed Roxy toys in the UK, such as the series of 1/24 scale motor cars as well as Roxy's copies of Spacex toys. Clifford also distributed toys from other manufacturers (see end of this page), again with the Clifford trademark applied to the otherwise original packaging graphics. Sadly there's no (longer) any information to be found about Clifford, which must have disappeared long enough ago for Companies House to have deleted their records. Their trademark logo must date from 1967 or so, for I have a 1966 Ford Mustang made by Roxy and sold by Clifford that has the Clifford name without the logo on the box.

I believe the Roxy range consists of the six toys shown here, because the two Roxy Space Explorer triple cards both carry the number 345678 as shown above, which nicely coincides with every last digit of each individual toy number.
Click on images to see details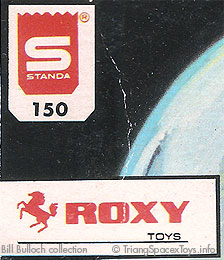 As a note, the Roxy Space Explorer triple cards shown on these pages were found in Holland and Switzerland, so this series was available in Europe as well as the US.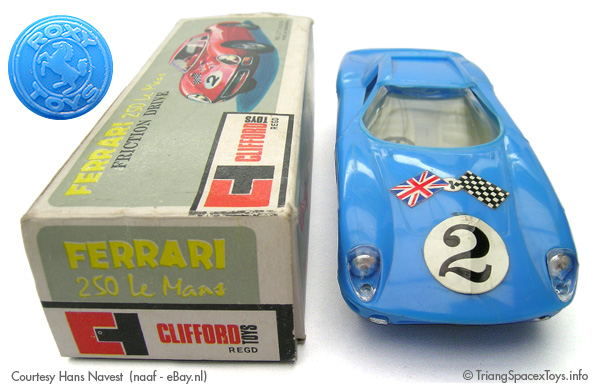 Clifford toys from other suppliers
Even though Clifford distributed many toys produced by Roxy, they did also obtain toys from other manufacturers. Two sets of those are included elsewhere on this site, but also linked below for convenience.
Click on images to see details
Use your browser's Back button to return here