COPIES & CLONES
SITAP Mini Space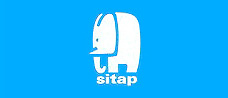 The Pas-de-Calais area (1) in north-western France had an important mining industry until seams started to run out in the late 1950s. Because the mining industry had been largely if not entirely nationalised to allow a more efficient relaunch after the war, initiatives were launched to switch over to other endeavours and continue to provide employment for the region's workforce. The Charbonnières de France (Coal industries of France) organisation had an experienced chemical branch, so, amongst other things, plastic production facilities were started to capitalise on this.
One of these was Sicopal, which is short for Société Industrielle et Commerciale de transformation de Plastiques (Industrial and commercial company for processing plastic) which had grouped together five smaller companies in 1972 but I gather originally produced plastic food packaging itself. Sicopal had a subsidiary called Sitap (one of the five companies), short for Société Industrielle de Tous Articles Plastiques (Industrial Company for All Plastic Articles), which produced things like plastic tableware and toys.
Things apparently went well enough until the oil-crisis hit in the early 1970s, raising the price of plastics with it. This caused Sicopal to restructure in 1974, where the ensuing job losses caused a question in parliament to the minister of industry (2). Who in his (rather optimistic) reply stated that everything was set for a succesful continuation of activities once conditions would improve, also stating that toy production was developing well - toy production presumably being less sensitive to raw materials price increases than food packaging.
Unfortunately toy production didn't turn out to be economically viable after all, so that Sicopal restructured again in late 1976, causing another question in parliament to the minister of employment. Who could in this case make a reassuring answer that toys were being replaced with car components and toolboxes, and that no local layoffs would be necessary. Only two toy specialists brought in from Paris had refused to be part of this reform, but not being ex-miners they were apparently of less concern. Sicopal itself got taken over by a German rival around 1980, but the facilities are still producing plastic packaging to this day.
When it comes to Sitap toys, what I've seen ranges from cheaper types of toy trucks to more upmarket models of racing and saloon cars, as well as a toy road system and even pedal cars (see catalogue cover below). Model kits were produced under licence from the Eagle brand in the UK, and Sitap also made a French version of Mego's Action Jackson called Luc l'Aventure. All toys are well-engineered and detailed, and I've seen a quite exquisitely-made Opel model that can be programmed to drive various routes through different cam-wheels being inserted into its mechanism. The space toys featured on this site are also nicely engineered and cleanly finished, and each comes with a pair of figures based on Spacex astronauts.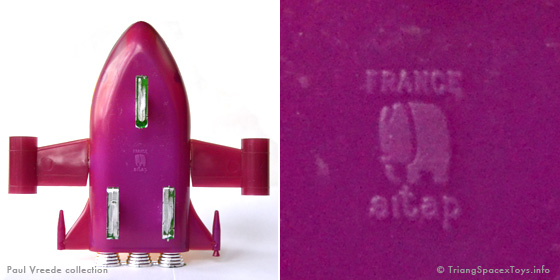 All these Sitap toys have their elephant trademark moulded in, centred underneath.
Click on images to see details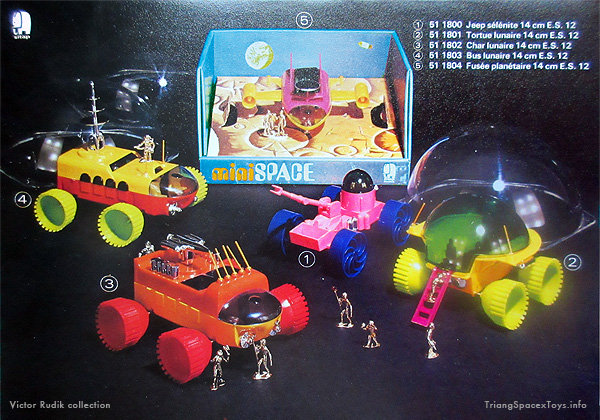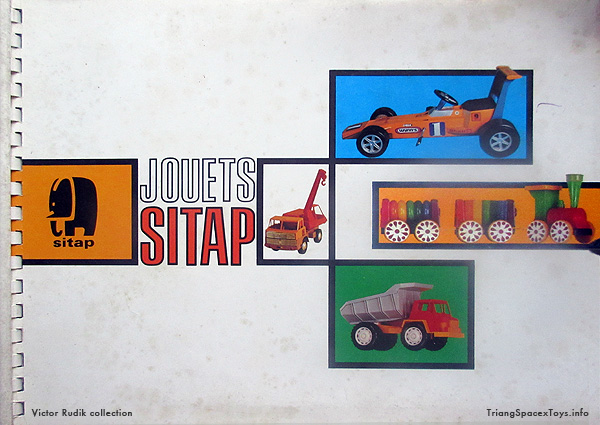 ---
1) the Sicopal factory was in Noeux-les-Mines in the Pas-de-Calais (it's still there, now owned by a German company). On the back of the Sitap catalogue are listed their addresses, with one factory also in Noeux-les-Mines, another in Le Houlme (Seine Maritime) and a third in Longjumeau (Essonne). Sitap had an office in Paris 4e at 20 rue Sainte Croix de la Brettonerie. back to text.
2) the proceedings of the French Assemblée Nationale are published in detail in a paper that's also available online including back copies, which thus provided some of the few nuggets of information about these companies. back to text.