COPIES & CLONES
BULLYCAN - Aviones Cosmicos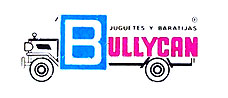 Bullycan is from Valencia in Spain, and is listed on business information sites as having been established in 1979. The company does have a longer history however - their current director, Mr Andres Candenas, told me it was founded in the 1960s by his father together with a Mr Bulls (hence the name of Bull y Can, short for Bulls & Candenas).
The very low set number shows the Aviones Cosmicos (Cosmic or Space Aircraft) stem from Bullycan's earliest production - Mr Candenas confirmed they are from the very early Eighties - which otherwise included simple Jeeps, boats and aircraft made from the same softer type of plastic. Mr Candenas said that sadly the company no longer has any records of its older toys (catalogues, lists or similar) but was pretty sure this was the only set of spacecraft produced (also see below).
The three Aviones were however produced in quite a range of colours. Components are simply push-fitted together, meaning especially the smaller pieces can easily come off and get lost. USAAF roundels have been applied as stickers over the ones moulded onto the wings (see below). Over time the adhesive has dried out however, so these stickers disappear quite easily, also from a blister that's only stapled to the card.
Distribution was to most countries in southern and central Europe as well as the UK and Israel. According to Mr Candenas, the toys had been engineered in-house, and, intriguingly, the moulds used to produce them should still be warehoused somewhere. Anybody want to invest in a re-issue? :)
Click on images to see details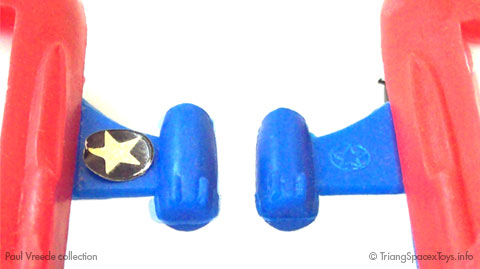 USAAF roundel as a sticker applied over moulded-in marking. Since the adhesive has dried over time, these come off very easily. The catalogue picture below seems to confirm all Aviones had them originally.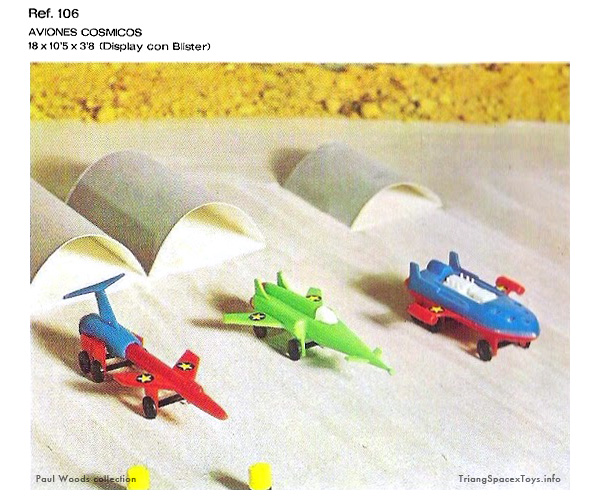 Paul Woods found an early Bullycan catalogue, which confirms the three Aviones Cosmicos were the only ones produced.