COPIES & CLONES
LARAMI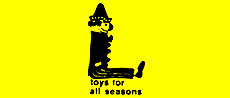 Larami Corp of Philadelphia marketed all manner of toys, quite a few of which tied in to TV series (a Battlestar Galactica bagatelle game f ex, or Star Trek Silly Putty of all things). The company's chief claim to fame was the popular Super Soaker gun, which I imagine prompted Hasbro to buy them out.
Having good memories of Hasbro's excellent customer service in the Benelux, I must say I was rather disappointed with their US colleague when I rang to ask about Larami. Some patient persistence resulted in the knowledge however, that ex-Larami co-workers were non-existent, as were the former Larami archives... ...provided that was the truth instead of just a quick way to get rid of me.
This is why I have to rely on the memory of my friend Pete Dibenedetto, who had once owned a number of Larami copies of Spacex toys, but who sadly had long since sold them on. The only thing remaining is the empty card featured here, which Pete most generously let me have.
Next to the Helicopter, moulded in purple like the Spacex original, Pete recalled the following from a Sears catalogue picture I showed him: Reconnaissance 2 in dark blue, Pleasure Cruiser in bright orange, Space Patrol in red, as well as a Moon Base with all pods in red! The small toys came on yellow cards with different illustrations similar to the one shown here; the Moon Base came in a sliding box like the Spacex version. I do hope some of these toys may yet surface...