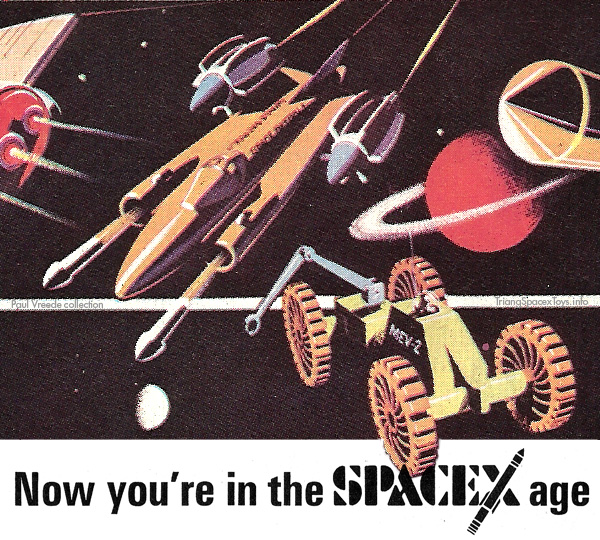 Hello there, and welcome to this site!
When we were young, Spacex toys provided hours and days of fun. Space was a hot topic, with Man landing on the Moon and with great expectations of what was to come. With these imaginative and colourful toys, we could stage our own space adventures by launching from the play corner and colonising the dining room table. If anything went wrong, we'd call in International Rescue to save us with their Dinky Toy Thunderbirds, which looked so right together with Spacex. In summer, the whole garden doubled as a giant-sized universe that our toys could explore, and so the fun went on. Little did we know then, that three-four decades later these toys would bring a new source of wonder and enjoyment, and that the whole world would turn into a giant-sized universe to explore for information about them.
What we've learned so far is on these pages, presenting a picture of Triang Spacex (aka Golden Astronauts) based on our current knowledge of these splendid little toys. It's the result of a lot of research by a number of enthusiastic collectors, as well as the kind efforts of quite a few people that helped on one point or another. In the course of time, we made some wonderful discoveries and also met some wonderful people.
The story is far from complete, however. Sadly, most of the companies behind these toys are no longer present, as is the case with the people involved in their production. This, as well as other reasons, means that very few records survive and many questions remain. Indeed, every fact that we discovered would maybe answer a question, but would immediately present us with a handful of new questions as well.
The story (so far) of Spacex toys therefore contains a lot of guesswork. Not unlike an archeological examination, a lot of what's on these pages has started with the artifacts before us: the toys themselves. Through the years we've also discovered documentation that added insights and could constitute proof. However, without the benefit of any eye witnesses, the precise context and who-did-what-and-why will have to remain speculation... Having said all that, what we did find is fascinating to say the least!
So who's we?
Well, in alphabetical order, this site wouldn't be what it is without the following collectors:
Bill Bulloch (UK), who energetically and enthusiastically participated in all areas of research, provided a plethora of pictures, and helped in getting some of the reasoning right.
Mike Burrows (UK), who discovered the design origins of some of our toys and also kindly provided pictures of his toys.
Andrew Cook (UK), who helped with numerous pictures from his amazing collection, especially of toys other than Spacex - the JR Toys section f ex would be nowhere as good without him.
John Eaton (GA, USA), who helped with US mail catalogue pages, pointed me to some rarities for sale (thanks again, John!) and is also the author of WildToys.com, by far the best Major Matt Mason website.
Kim Stevens (UK), who co-authored the extraordinary Anderson Complete Comics History, braved many a visit to the British Library and other archives looking through comic strips and in the course of doing so discovered many of the design origins of our toys as well as other information in toy trade magazines. Another thank you also goes out to Kim's co-author and friend Shaqui Le Vesconte.
Paul Woods (UK), researcher of Project Sword toys and creator of many a website on their subject, who compiled the first list including Spacex Toys. For this site Paul provided pictures and enthusiastic support as well as a growing body of information he came across on his tireless trawling of the Internet, including quite a few Spacex design origins. His Moonbase Central blog also provides a platform where some of us could share our findings.
Paul Vreede (NL but residing BE), who begged, badgered and cajoled everybody else for help, gratefully accumulated all their efforts with his own and, after a couple of false starts, eventually made these pages.
Next to the above, many other collectors helped out in one way or another. Hoping I don't forget anybody, they include Ed "Ice" Berg of toyconnect.blogspot.com (NV, USA), Winchell Chung (USA), Kevin Davies (UK), Pete Dibenedetto (NY, USA), Barry Ford (UK), Martin Gainsford (UK), Rob Godwin (CAN), Christian de Grandpré (CAN), Arto Haarala (FIN), Brian Hayes of Alphadrome - danefield.com (UK), Barry Hinchcliffe (UK), Grif Ingram (UK), Mike Kosowski of ToyMemories.com (VA, USA), Frank May (MS, USA), Mark McClellan (CA, USA), Clayton Naar (SC, USA), Dennis Nicholson (AUS), Will Osborne (UK), Tony Panther (AUS), Geoffrey Peeters of geoffstoys.blogspot.com (BE/PT), Victor Rudik (CAN), Allen B Ury of Fantastic-Plastic.com (CA, USA), Graeme Walker (CAN), Hugh Walter of SmallScaleWorld.blogspot.com (UK), Simon Wickes of TVCentury21.com (AZ, USA), Mark Wright (AUS) and Robert Yowell (CA, USA).
Of the many other people that provided help, the following stand out:
Ruth Rosenthal (UK), for telling me many things about her father.
Richard Lines (UK), formerly of Triang and Hornby, for his kind patience with my enthusiasm, and for checking his complete set of Triang catalogues.
Pat Hammond (UK), author of the Triang and Rovex-Triang history books.
Terry Aarons (UK), former business partner and colleague of Jack Rosenthal at Alltrades.
Robert Nicholls (VI) and Adrian Stern (UK), for sharing their memories of working at Century 21 Toys.
David Portree (AZ, USA), space historian and author of many excellent and wonderful websites, who helped identify the design origins of some toys and was most generous in supplying information and material.
Mark Wade (USA), space historian, for publishing Astronautics.com, a magnificent online encyclopedia about historic space hardware.
Project 21, a group of TV Century 21 magazine collectors instrumental in helping me identify the issues of that magazine I needed for various design origins.
The WayBack Machine at the Internet Archive, which thankfully stores the contents of some very valuable but now-defunct websites used as sources in these pages.
Maria Lampert (UK) of the IPO at the British Library for digging up references to later Spacex Registered Designs.
Joanna Bolitho and Esther Lutman of the V&A Museum of Childhood, part of the Victoria & Albert Museum, London (UK), for helping with a number of images from the Lines Bros archives, a large part of which is in their collection.
Tere Saldaña (MX) for helping out with the film and catalogue images from her father's Lili Ledy archive - he was the 'publicista' of that company.
NASA, for its huge collection of public-domain pictures and documents of which grateful use has been made. Another thank you is due to various US armed forces and government agencies for the same reason.
... as well as a number of eBay sellers and other individuals who kindly allowed me to use their pictures (see picture credits).
Images
While on the subject of pictures, please note that most pictures were specially taken for this site, and all have been credited to those that took them, as well as marked with any mention they preferred if necessary. If a picture is marked "courtesy of", then that literally means I have been granted that courtesy - it does not mean "this is where I 'borrowed' the picture from without asking." All these pictures represent a lot of work, offered here in return for all the benefit I've had from others' work on the internet. I hope you will respect our work, and have the courtesy to ask me about using pictures from this site (plus I'm always happy to hear from a fellow-enthusiast :).
Scans from vintage publications are from various collections, and for these I claim "fair use" in showing extracts from copyrighted works in the context of non-commercial research on this site's subject matter. All of these publications have been out of print for decades, and would I imagine no longer have a commercial interest. As to extracts from comic strips that could still have a commercial interest, I'm only showing a few individual panels or at most a single page or spread from a longer story or book. And if any of those comics ever get reprinted, I will not only urge everyone to buy a copy, I will be at the front of the line to do so myself!
Thanks
To each and everyone who helped, I express my most sincere thanks and appreciation!
This website also owes a thank you to Chris & Julie Graebe, authors of the Hornby 0 Gauge System bible. Imho this beautiful book is by far the best in clearly and informatively dealing with an extensive range of toys - the second, expanded edition even more so. Although out of print, if you like tinplate toy trains, then you should really try to find this book.
Thanks are also due to Tim Berners-Lee, without whom we wouldn't have the world-wide web, without which I would never have found the friends mentioned above, nor the toys shown on these pages, nor the information I found about them. And you wouldn't be reading this either!
A great amount of gratitude is of course due to Jack Rosenthal and also Raphael Lipkin, for reasons which will become apparent if you're not aware of these gentlemen's work. :)
And lastly, an appeal: if anybody can add any information of any kind, then I'll be most happy to hear from you. Rectifications equally welcome. And any and all mistakes are of course my own.
Best regards
--
Paul Vreede
---
Just in case you're wondering, the illustration at the top of this page is cobbled together from a couple of consumer adverts you'll find in the paperwork section.