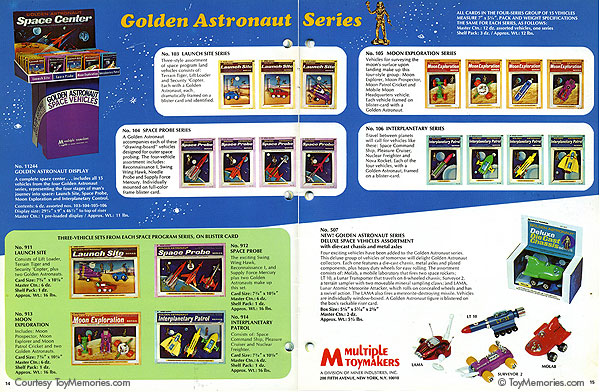 This is what I call an interesting pair of pages, if only for that display stand alone. :) Which merits a page to itself (use your browser's Back button to return here).
Next there are the four later-series toys, which I knew about, but where these pages confirm that it's indeed only those four that made it to the US. And three of them (LAMA, LT 10 and the Molab in the box) are shown in colours different to those we're familiar with. The Molab box is again photographed without plastic window or blister to avoid reflections.
The cards shown are the same mock-ups used for the 1969 catalogue, probably re-used for expediency (or perhaps because the layout people didn't know any better. :) At any rate, a close look at the cards in the display stand reveals that those don't have the early frame inside the blister, so the later cards without the frame must've come in before this catalogue was prepared.
What also surprises me is that no boxed sets are shown here (while the GA Super Set isn't mentioned here or in the 1969 catalogue), whereas the triple cards are still included. Which makes me wonder if there may have been a third page showing the boxes, or whether those had been discontinued by 1970. Another mystery to solve...