As Mike Burrows discovered, the Spacex Forklift is derived from an alien vehicle appearing in an episode of a Fireball XL5 comic strip drawn by Mike Noble, appearing in TV21 magazine #97 published 26 November 1966. For the Spacex toy, the alien vehicle's mysterious undercarriage has been replaced with normal wheels, and the lifting assembly has been simplified, but other than that the resemblance is very close.
Fireball XL5 is the best-known of the World Space Patrol fleet of Fireball spacecraft, crewed by Commander Steve Zodiac, Doctor Venus and Professor Matthew Matic. Their adventures are chronicled in the third Supermarionation TV-series produced by Gerry and Sylvia Anderson (where the crew also included robot Robert), as well as in comic strips appearing in TV21 magazine.
In the story, Zodiac and crew have been captured by hostile aliens living on a hot, volcanic planet. Pretending to be overcome by the heat, they are transported back to their ship where the alien commander assumes they'll have protective clothing. The ruse works, and they manage to escape and warn an approaching friendly fleet before the hostile aliens can destroy it.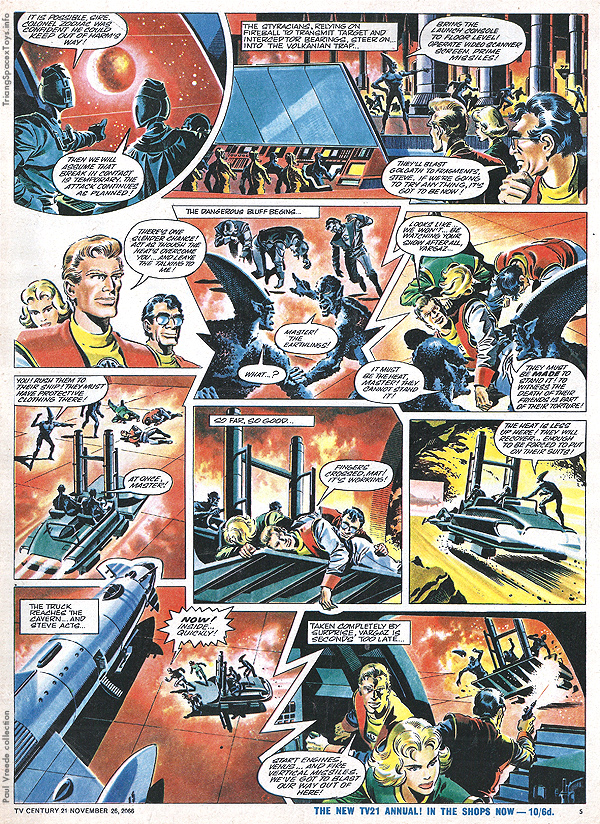 ---
More details on Fireball XL5 comic strips are included on the superlative GACCH, though a number of years still need to be added.
Episodes of the TV series can be found on YouTube.
(both open in new windows).