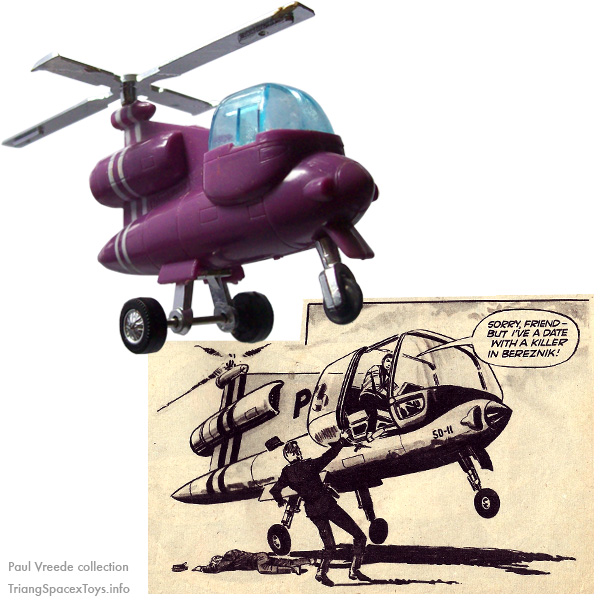 Written by Tod Sullivan (presumably*) and drawn by Rab Hamilton, TV21 character Brent Cleever is Agent 21 of the Universal Secret Service, an agency of the World Government in the universe shared by a number of Gerry Anderson storylines (incl Thunderbirds and Fireball XL5). Headquartered on Mars and using the Century 21 Toys corporation as a disguise (an apt choice given TV21 magazine's readership, and prophetic in that such a company would shortly be started by Anderson, Rosenthal et al), Agent 21's cover occupation is that of a toy sales representative, carrying an innocuous-looking sample case full of hidden equipment and often deadly miniature toy samples.
In a storyline reminiscent of James Bond avenging his murdered wife Tracy, Agent 21 sets out towards the rogue state of Bereznik to track down the assassin of his assistant Tina. Breaking orders not to do so, 21 is deemed a traitor and his picture is printed in newspapers with a reward. In the episode appearing in TV21 #71, published 28 May 1966, 21 washes up on the German coast and is found by local inhabitants who recognise him from a newspaper and call the police. The police arrive in a "Helijet", which 21 manages to capture after first overcoming the people guarding him and then the helijet pilot. In the next installment (issue #72), 21 flies the helijet eastwards into Bereznik to continue his quest.
As is clear from the comparison picture above, the Spacex Helicopter P3 is a close copy of the Helijet drawn by Rab Hamilton, down to the P3 identification number. Shaqui Le Vesconte noticed this, and showed it to Kim Stevens who sent it to the Moonbase Central blog.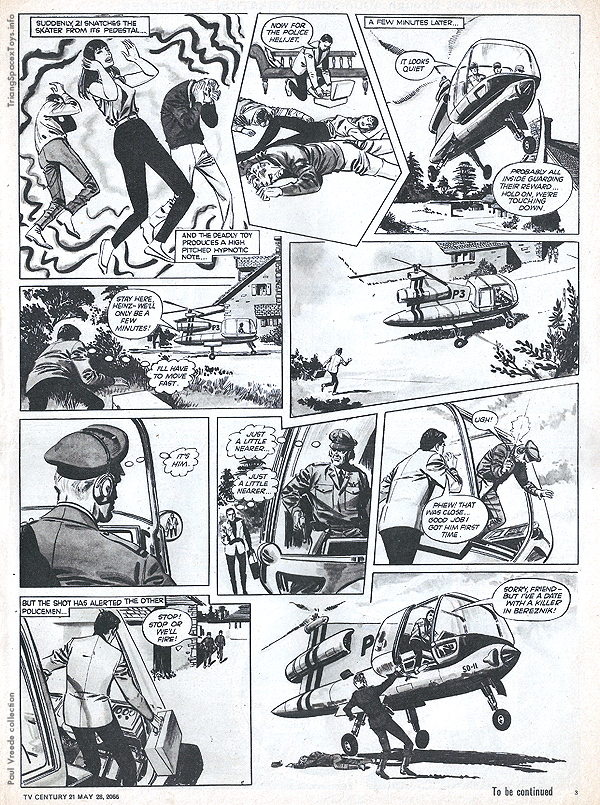 In terms of general shape, Paul Woods came across a one-man submarine illustrated on the January 1964 cover of Popular Science magazine that shows quite a similarity, so who knows, Rab Hamilton may have seen that. (opens in new window)
---
*: The writer of the TV21 stories isn't known for certain. Full details on Agent 21 including the storylines of every installment are included on the superlative GACCH (opens in new window). back to text