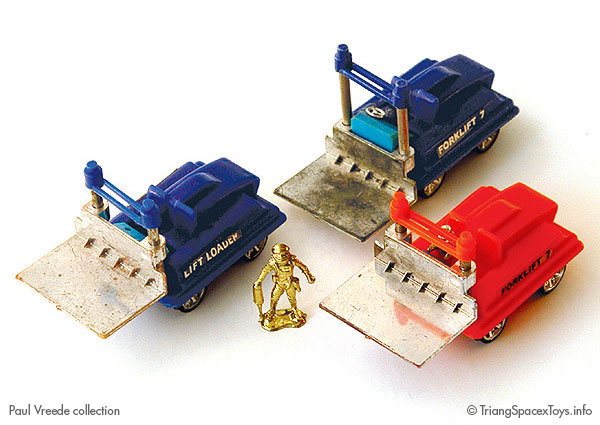 Early orange version of the Spacex Forklift 7 at right, which subsequently was changed to dark blue as shown at the rear. Golden Astronaut Lift Loader at left, which only appeared in that colour.
Size
2 15/16 in
1 7/16 in
1 15/16 in
Features
Loading platform can be raised and lowered
Variations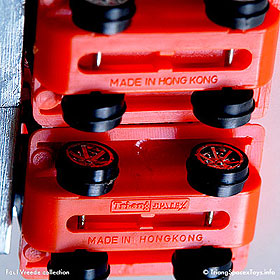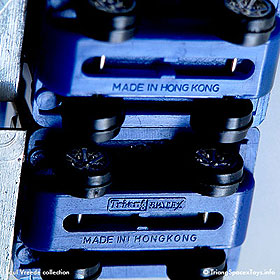 Known
- Orange Forklift 7, no trademark
- Orange Forklift 7, trademarked
- Blue Forklift 7, no trademark
- Blue Forklift 7, trademarked
- Blue Lift Loader, trademarked
Possible
- Blue Lift Loader, no trademark

As a note, the design registration document for the Forklift (linked below) is dated 22 August 1969 and already shows a version with the trademark.
Prototypes & Mockups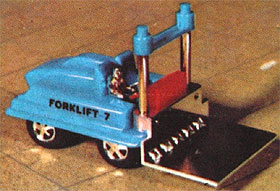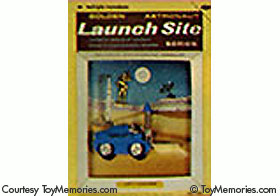 Spacex card back photograph (upper picture) shows a pale-blue Forklift 7 fitted with five-spoked wheel hubs and a red dashboard. The black of the wheel is visible through the holes between the spokes. The pale-blue colour and red dashboard may be from mould test-shots using differently coloured plastic.
Multiple Toymakers catalogues show a vehicle in a similar lighter shade of blue on a mock-up card (lower picture).
Spacex
Golden Astronaut

From sets containing multiple toys, use your browser's Back button to return here.
A(n alien) forklift hovercraft from a Fireball XLS-5 episode by Mike Noble, published in TV21 magazine #97 of 26 November 1966.