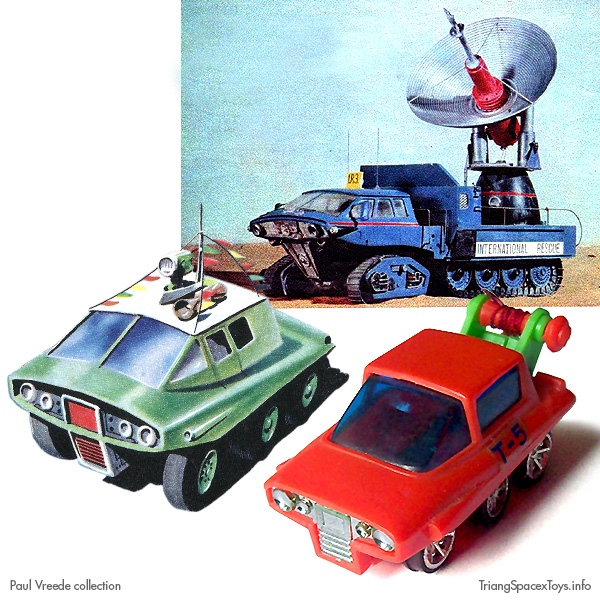 While looking through a website devoted to Thunderbirds vehicles, I had noticed that the front of the Thunderbirds Transmitter Truck (aka Jodrell 6, the name of the transmitter it carries) was the probable design origin for the Spacex Tractor T-5, the nose including grille and sidelights being very similar. Years later however, the missing link between the two vehicles was revealed by Mike Burrows: a six-wheeled vehicle with very much that same nose, in an illustration by Eric Eden. Appearing in TV21 magazine #87 published 17 September 1966, it shows the vehicle towing a longboat in an article (shown below) about the celebrations of the Battle of Hastings 1000th anniversary, which was a very topical event for a magazine purporting to be from 2066. But as is usual for anything Anderson, it's the futuristic vehicle that takes centre stage, whereas a real photographer would have focused on the longboat on parade, not the tractor pulling it. :)
The Thunderbirds Transmitter Truck is one of the vehicles transported by Thunderbird 2 in one of its cargo pods, and appeared in the 'Sun Probe' episode* of the series. The basic vehicle was later adapted into the red Gray & Houseman Explosives Truck ('End of the Road' episode) and a fire truck ('Fire Hazard' episode).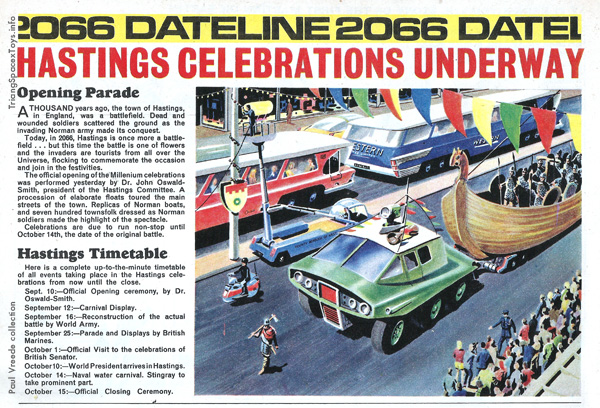 ---
*: a nice overview of Thunderbirds episodes including at least one view of each vehicle can be seen on Flying Omelette (opens in new window).