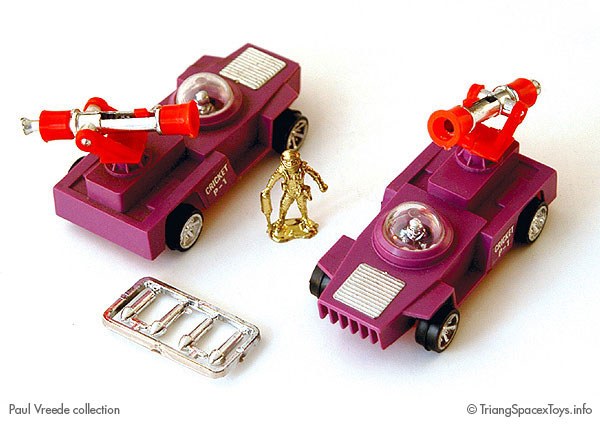 The Cricket is identical for both the Spacex and Golden Astronaut ranges.
Size
Length
Width
Height
Launcher length
3 1/16 in
1 9/16 in
1 1/2 in
1 7/8 in
Features
Spring-loaded launcher can be elevated and swivelled, shoots missile
Variations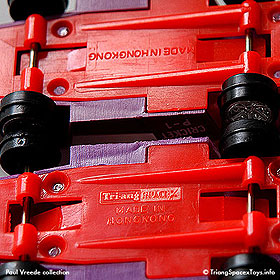 Known
- No trademark
- Trademarked
Colour
- Slight variations in purple body colour
- One example in brown (see below)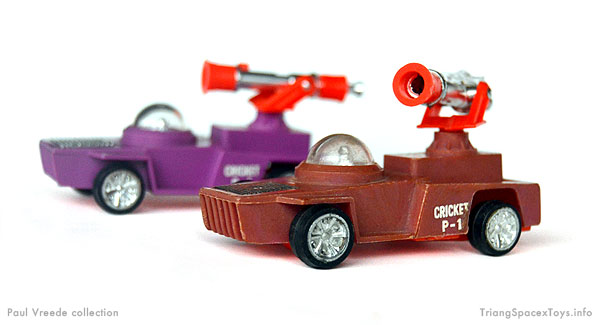 This Cricket has exceptionally been moulded in brown. It will date from the same period as the unusual brown helicopter, and would make a stopgap scenario through lack of purple pigment more likely.
Spacex
Golden Astronaut
From sets containing multiple toys, use your browser's Back button to return here.
The Mosquito Jeep, a larger toy from the Hamilton's Invaders range by Remco. The same vehicle was reissued by Remco with different stickers and in different colours.
UK Registered Design
943290
19 November 1969
Toy Vehicle
US Design Patent
Possibly applied for, but in any case not granted (the vehicle was after all a copy of an original US toy design).