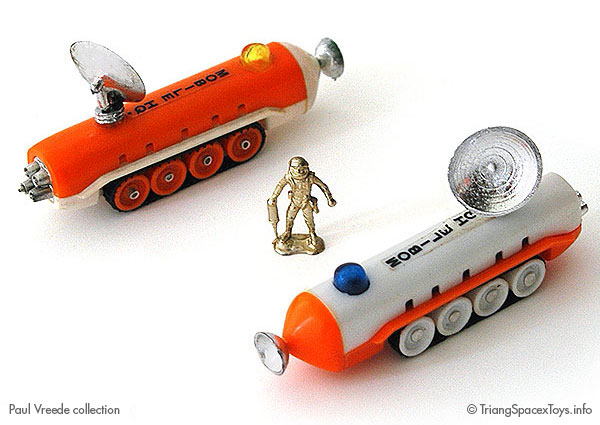 The two colour versions of the Mobile Moon HQ, which were available at the same time and are identical for both the Spacex and Golden Astronaut versions.
Size
3 15/16 in
7/8 in
1 15/16 in
Variations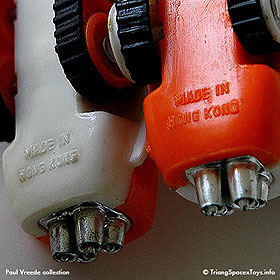 Known
- White over orange, no trademark
- Orange over white, no trademark
Judging by an example found in a post-production assortment, I believe the Mobile HQ never carried a trademark
(use your Browser's Back button to return here).
Both body colours can have either a yellow or blue cockpit dome and side windows.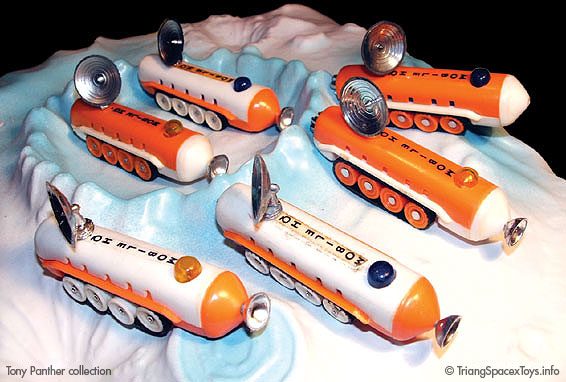 Prototypes & Mockups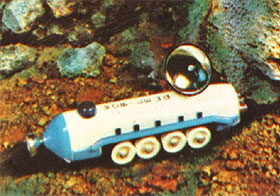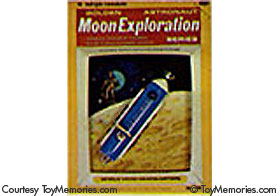 Spacex card back photograph shows what are probably pre-production colours of white over pale blue, with a radar dish that is smooth inside (top picture). A darker blue over white is shown in mock-up Golden Astronaut packaging in Multiple Toymakers catalogues (lower left).
A (presumably older) pre-production version shown in an early PR photograph has taller, more rounded windows with a distinctive door in the middle (below).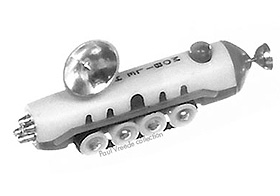 Spacex
Golden Astronaut
From sets containing multiple toys, use your browser's Back button to return here.
An illustration by I. Teece in the Collins Space Flight book, published 1962.
LP made a vehicle quite similar to this illustration.
The design was next adapted for the Project Sword Moon Bus.