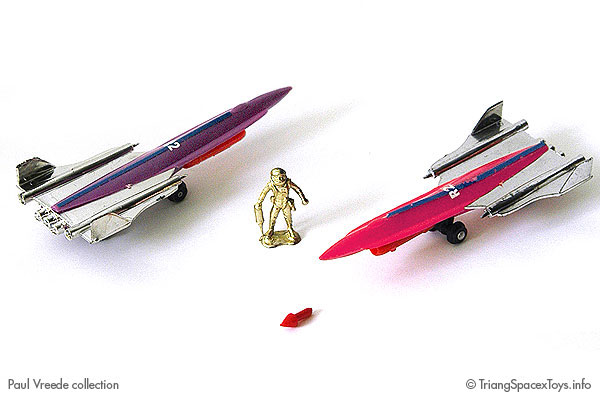 Early version in magenta pink at right, later version in purple at left. The Golden Astronaut series only had the version in purple.
Size
3 15/16 in
1 11/16 in
15/16 in
Features
Shoots missile from spring-loaded pod below front fuselage
Variations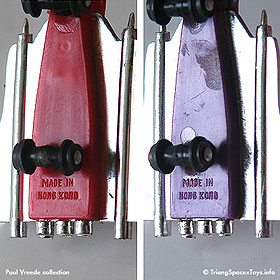 Known
- Magenta, no trademark
- Purple, no trademark
Trademarked versions are unlikely I think, because of the variety of examples not having a trademark, found in both early and esp later packaging.
Note:
Although called Reconnaissance =1= on GA packaging, the toys always carry a sticker marking them as =R2=.
Spacex
Golden Astronaut


From sets containing multiple toys, use your browser's Back button to return here.
The Lockheed A-12/YF-12 Oxcart, with tails moved to the wingtips and three exhausts added in the middle. This early Blackbird first flew in December 1964, and had been seen in public months before.
UK Registered Design
943307
19 November 1969
Toy Vehicle
US Design Patent
probably applied for, but not granted.