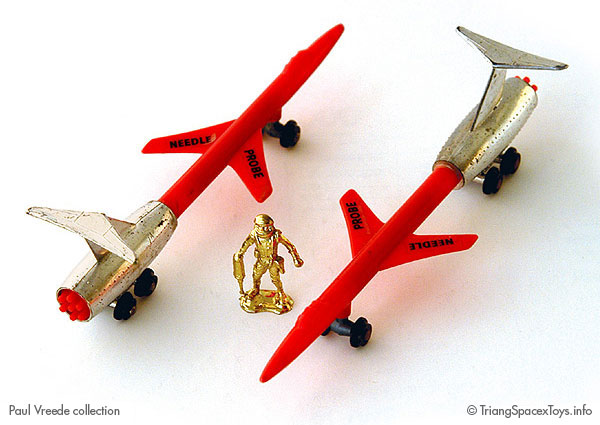 The Needle Probe is identical for both the Spacex and Golden Astronaut ranges. However, an early colour version exists (see below) which will have been exclusive to the Spacex range.
Size
5 1/16 in
1 1/2 in
1 3/8 in
Variations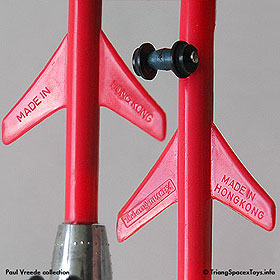 Left:
- No trademark
- Trademarked
Below, in front:
Probably the earliest variation of the Needle Probe, featuring:
- a distinct fuchsia shade of pink
- landing gear in bright blue (instead of blueish grey), showing white stress marks caused by the wheels being pinned in
- 'made in Hong Kong' marking in narrow lettering, underneath the fuselage instead of the wings.
(note that this example has lost a pair of wheels at the rear, as well as half of its tailplane).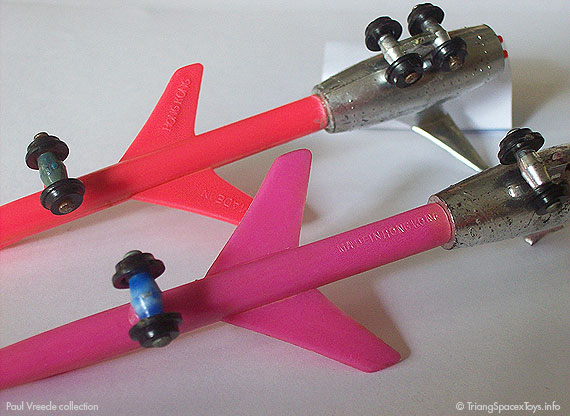 As a further note, the design registration document for the Needle Probe (linked below) is dated 22 August 1969 and still shows a version without a trademark.
Prototypes & Mockups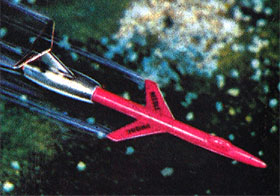 In the Spacex card-back photo, the pink fuselage appears slightly thicker than on the production model, and the landing gear has been retouched out.
Spacex
Golden Astronaut


From sets containing multiple toys, use your browser's Back button to return here.
The Needle Probe, World Air Force stratospheric reconnaissance plane illustrated by Eric Eden in a Defence 2066 article in the TV21 Summer Extra album of 1966, subsequently republished in the Dutch Thunderbirds Extra 2 annual of 1966.