The two colour variations of the Orbiter Satellite, both sold concurrently. Note the example in orange is missing its rocket nozzle on top.
Length/Width
(panels extended)
Length/Width
(panels folded up)
Height
Features
Solar panels can be folded in and out.
Antennas can be removed for storage.
Variations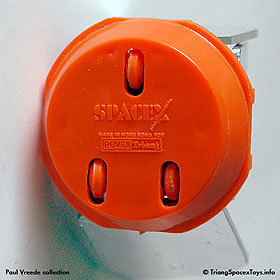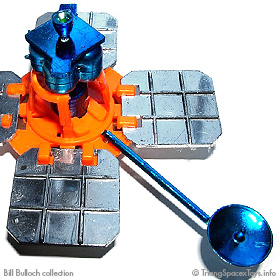 Known
- Orange body with blue varnish on plated details
- Blue body with magenta-pink varnish on plated details
Always carries a Spacex logo with "made in Hong Kong for Rovex Triang"

The two antennas have so far been found with and without blue varnish on the chrome plating.

Note: the lower picture also shows the rocket nozzle on top of an orange/blue satellite, sadly missing from my example shown in the main picture above.
A series of US satellites sent to orbit and survey the Moon in 1966-7.
Registered Design/Design Patent
UK Registered Design
Application Nr 944754
As stated on blister card
Not granted