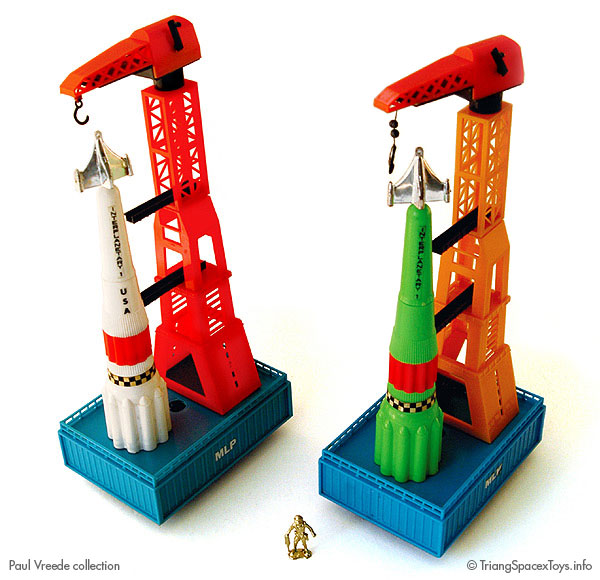 Spacex version at right, Golden Astronaut version at left (see details below).
Note: the lifting cable on the crane at right has been fitted with two fishing-line weights by a previous owner.
Size
Platform
Length
Width
Height
Rocket
Height
Diameter
Gantry height
Total height

124 mm
86
45 mm

200 mm
29 mm
238 mm
280 mm

4 7/8 in
3 3/8 in
1 3/4 in

7 7/8 in
1 1/8 in
9 3/8 in
11 in
Features
Crane can be rotated and has working winch.
Both gantry and rocket can be disassembled for storage.
Variations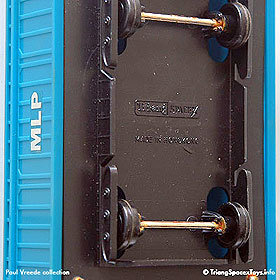 - Cyan-blue platform, yellow or orange tower, dark orange crane, green rocket with red detail and "Interplanetary 1" name sticker, platform marked "Made in Hong Kong" plus trademark
- Greenish-blue platform, red tower, dark orange crane, white rocket with red detail and extra "USA" sticker below "Interplanetary 1" name sticker, platform marked "Made in Hong Kong" plus trademark
Note: I have so far not seen a white rocket in Spacex packaging, nor a green rocket in GA packaging, so I believe the colours were exclusive to each series.
As a final note, one of the two black walkways is a bit shorter than the other. It's not uncommon however, to find two of the same length in original packaging. Whether this was a mistake or a deliberate simplification is anybody's guess right now.
Prototypes & Mockups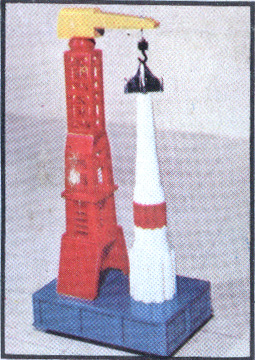 On the Spacex card-back photograph, the MLP appears to be smaller than the prodction toy. It certainly has less detail, such as the platform railing or the ribbing in the side panels. The platform doesn't seem to have wheels, and the shuttle appears to have no towing ring. The crane arm doesn't have the lattice pattern, and the crane itself is sitting on a rounded mount that appears to be part of the top of the gantry.
Spacex
Golden Astronaut


From sets containing multiple toys, use your browser's Back button to return here.
The International 1 rocket, from the Investigation U.E.I. feature illustrated by Eric Eden, published in the TV21 Summer Extra issue of 1966 and subsequently republished in the Dutch Thunderbirds Extra 2 annual.
UK Registered Design
943305
19 November 1969
Toy Mobile Launch Platform
A US Design Patent will probably have been applied for, but if so wasn't granted.