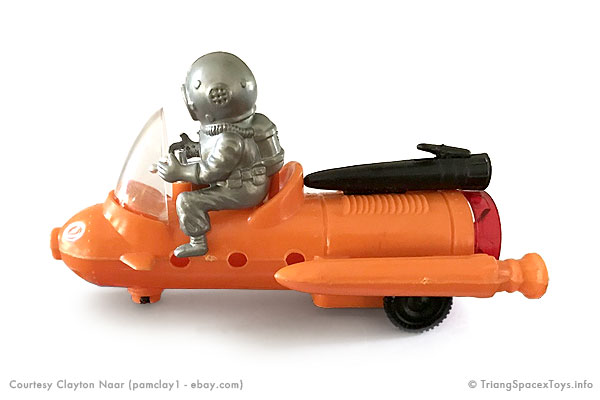 This vehicle has friction-driven rear wheels and a detachable diver figure. The black piece on the back is a spring-loaded spear launcher, as is illustrated on the box (see below). The War-Car is some 14 cm - 5 1/2 in long.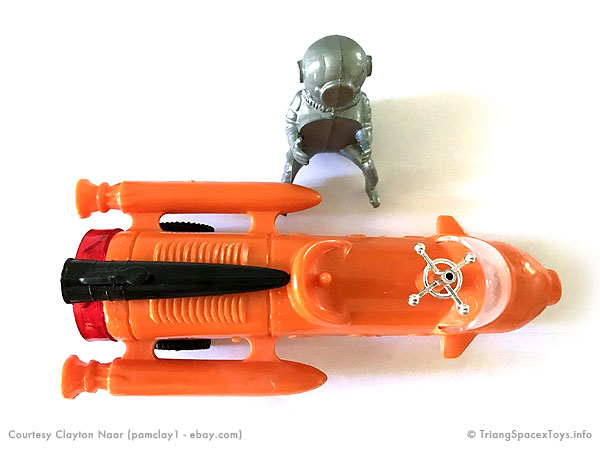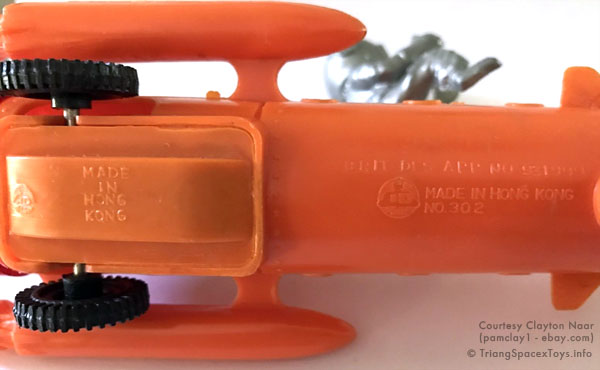 The underside of the War-Car carries the LP trademark , Made in Hong Kong text and the number 302 as well as a British Design Registration Application number. The cover of the friction motor also carries the LP trademark and Made in Hong Kong text, so may be a part in common with other toys.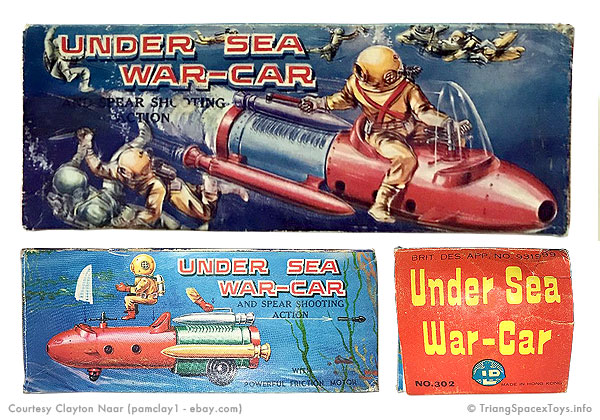 The box carries the number 108 on the side flaps as well as the British Design Registration Application number 931999. The box itself is the usual tight fit, and as shown a few components need to be mounted in place by the toy's owner.
The War Car was also sold in a pack numbered 302A, where a trio of LP's 2" deep-sea diver figures were included. Moonbase Central has saved a photo of this set, where a baggy of spears is also visible.
I've of course wasted no time in obtaining a scan of the design registration from the British National Archives, quietly hoping this would reveal the manufacturing company's details. Unfortunately it turns out the design was registered to an individual instead, being granted in June 1967 to "a Chinese citizen" by the name of Ng Wing Kwong, with an address in Kowloon, Hong Kong.
Who may have been the owner of the LP factory, or merely the designer of this particular toy. Since this is the only LP toy to have a registered design, I'm currently inclined to believe Mr Ng was the designer.
Searching on his name got me two US utility patents from the late 90s where somebody with that name co-invented some toy mechanisms, one of which was for the Toymax company. With a good thirty years between the LP design and these patents, it's currently anybody's guess whether those were by the same Mr Ng or just coincidence.