Size
Length
(minus missile)
Width
Height

3 3/16 in
1 1/2 in
1 9/16 in
Features
Fires missile from spring-loaded tube in nose
Central tail can be detached
Cockpit canopy can be opened according to the blurb on the blister card, but this isn't the case on the toy. The canopy on the prototype did open however (see below), which will explain the blurb.
Variations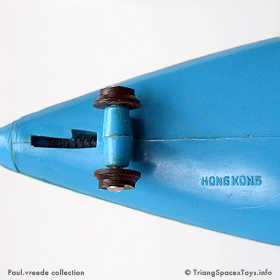 The Lifting Body carries no trademark, but has just a "Hong Kong" marking.
No variations known.
Prototypes & Mockups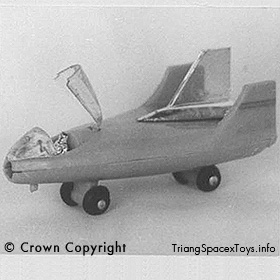 The Representations photographs for the design registration (linked below) show a prototype for this toy. The craft's body and tail don't have any panel lines moulded in, and it sports a two-piece canopy with an opening rear half.
The Spacex toy is a somewhat generic lifting body, most closely resembling the Northrop M2-F2, but with a central tail like the one on the Northrop HL-10.
UK Registered Design
944751
25 March 1970
Toy Space Vehicle