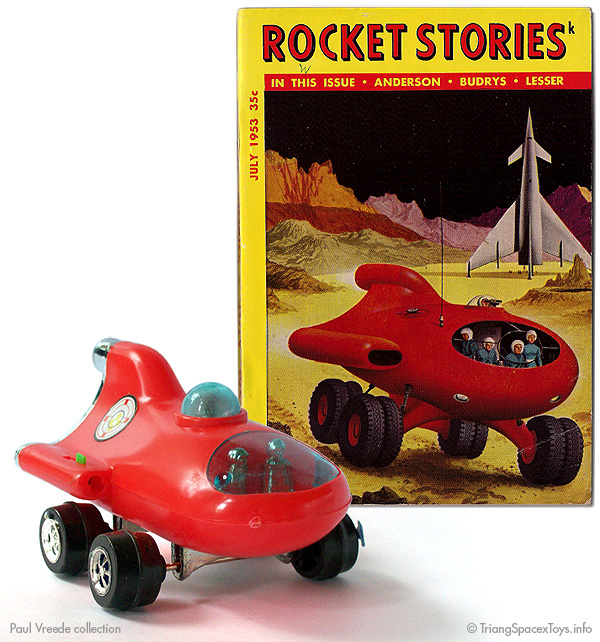 The Spacex Molab vehicle is based on this illustration by Alex Schomberg, gracing the cover of the July 1953 edition of Rocket Stories magazine which I found ages ago on Fabio Femino's marvellous Retrofuture site.(1) Inside there's no mention of the vehicle, and as is common with science-fiction pulp magazines, it doesn't tie in to any of the stories either. Schomberg's illustration was next included in the Man on the Moon book by John Raymond, published in 1964 (in the UK, '63 in the US). This is where the Spacex designers most likely got it from, since this book also shows the illustration that inspired the Project Sword Moon Crawler and from there the Spacex Surveyor 2 (see page for that toy in this section).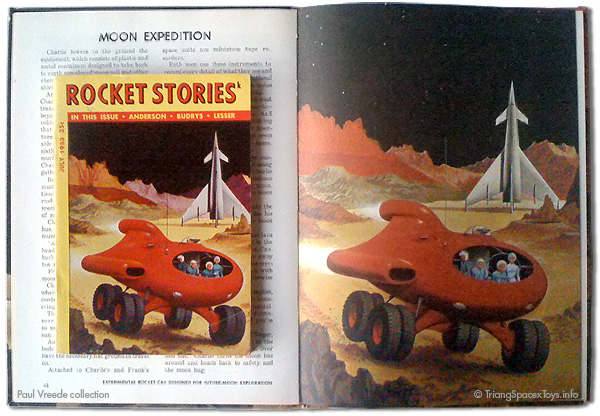 The Molab name comes from NASA. It's short for Mobile Laboratory of course, and was part of a series of other acronyms to describe various types of vehicles intended for lunar exploration, and for which various contractors submitted proposals and in some cases built actual test vehicles. In the case of Molab, the best-known of these is a Grumman design to which the Spacex toy bears no resemblance at all (but which did get featured in a Project Sword comic strip, where it was called an "Ant"). (2)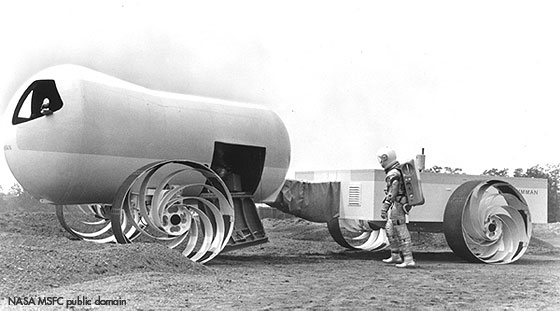 Grumman Molab test vehicle, 1964
Toy cousins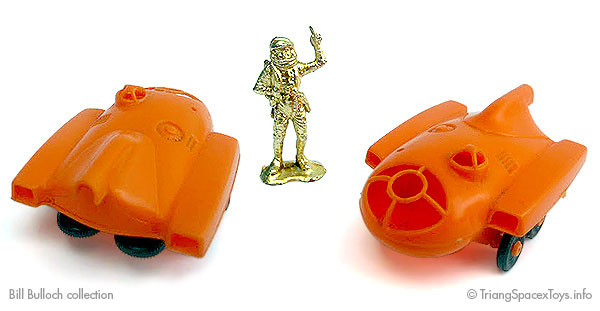 Schomberg's illustration inspired at least two other toy Molabs. The best known of these was made by Australian company R&L (Rosenhain & Lipmann) as a premium for Kellogg's cereals. This Molab is part of a series of small space toy kits which also included an astronaut, space station, Atlas rocket with launch platform, rocket transporter as well as an Apollo CSM and LEM (3). Available with Kellogg's Sugar Smacks in 1969 as shown in the advert below, the R&L Molab predates the larger Spacex version by almost a year. It is 47mm - 1 7/8 in long.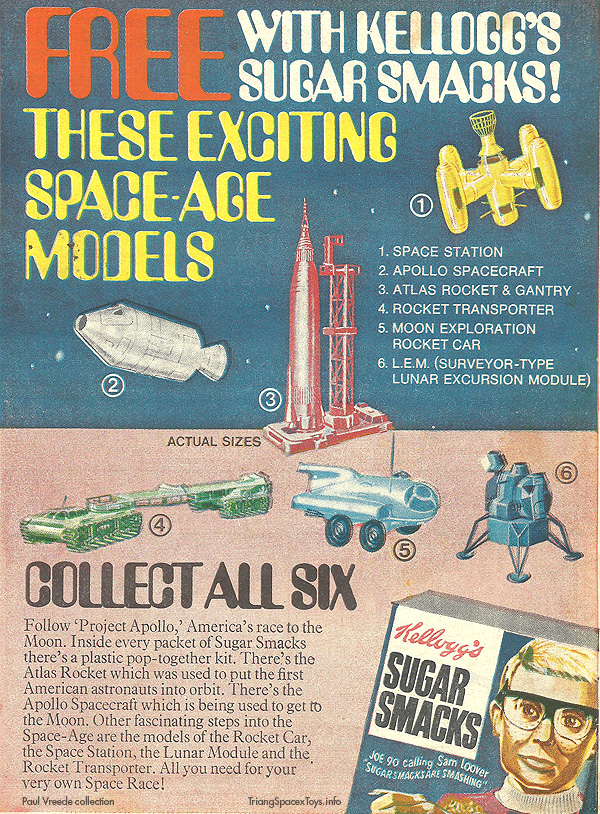 The other Molab toy is a very basic and rather crude little thing included in a blister card of mixed space toys of various origins by an anonymous Hong Kong manufacturer. The card header of the set includes Schomberg's Molab in its illustration as shown below.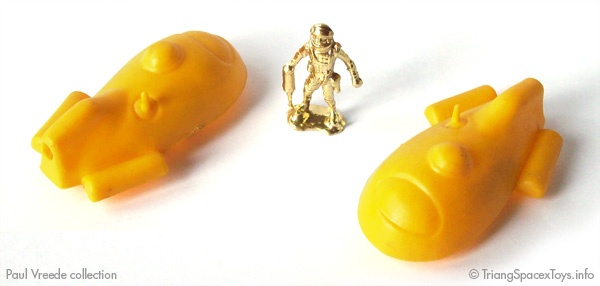 This Space Set is shown in more detail in the Mix & Mismatched section.
(use your browser's Back button to return here)
---
External links open in new windows. Just close them to get back here.

1: Retrofuture contains hundreds of images of how the future was imagined to be in the past (opens in new window). Text is mostly in Italian (use Google Translate or similar), but count on spending a long time seeing it all! (Also hit the Home link at the bottom of the page for an index of more specialised topics). back to text
2: Amazingly this prototype vehicle survives to this day. Paul Woods discovered it's hanging from the ceiling at an aviation museum. The Project Sword strip is shown on his page as well.
back to text
3: Bill Bulloch wrote more extensively on this series in his blog post at Moonbase Central, which also features pictures of some of the other R&L toys as well as later reissues from Spain and Mexico. back to text