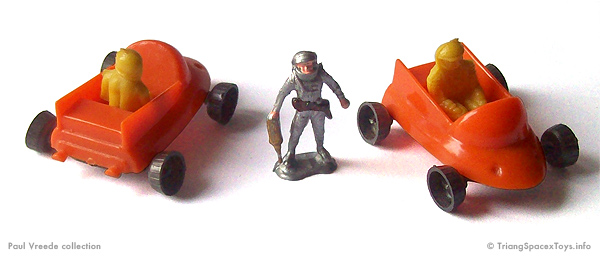 This little vehicle turns up occasionally in older sets of LP space toys, being illustrated as a flying flivver without wheels on one box side as well. It's made of a softer plastic than is usual for vehicles made by LP. The driver also exists in a plated version.
Size
Length
Width
Height
(incl driver)
1 11/16 in
1 3/8 in

15/16 in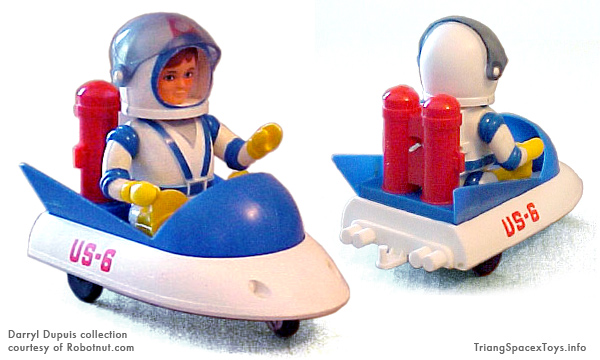 The LP buggy is clearly copied from Billy Blastoff's rocket sled, as made by Tomy in Japan
and for Eldon in the US.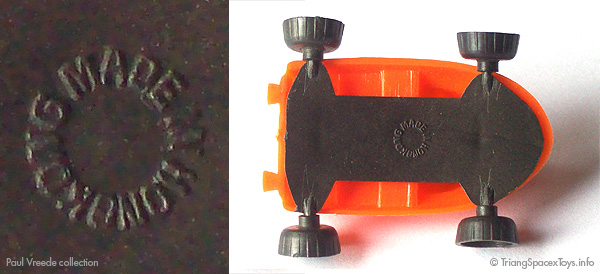 The buggy is only marked Made in Hong Kong, it bears no trademarks.
---
While looking for something else, I came across this 1969 newsreel clip of the Tomy factory at Omochanomachi, Japan, where Billy Blastoff was manufactured (though in the first half the workers are actually assembling Karate Robots). (Opens in new window).