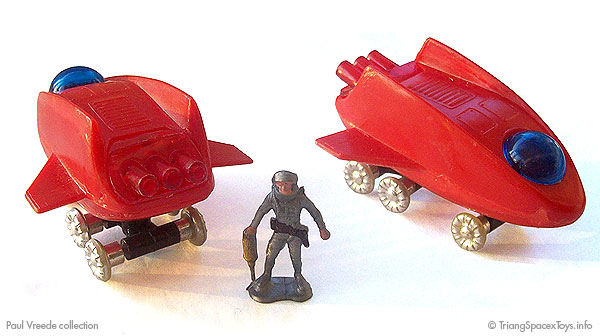 Size
2 9/16 in
1 15/16 in
1 3/8 in
Colours
always in red with clear red engine nozzles
may exist in other colours next to plated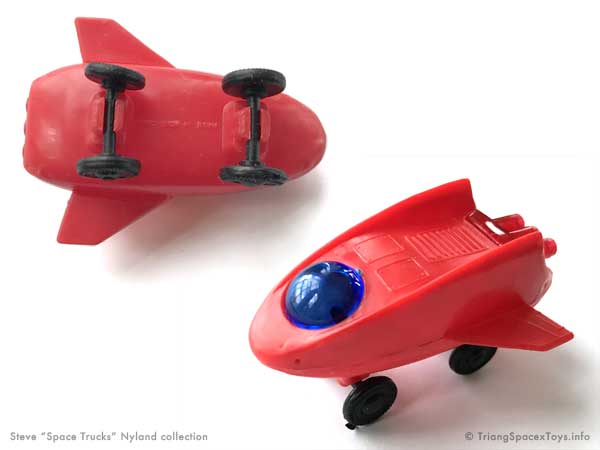 A later version of the cruiser was fitted with much simpler wheels in soft plastic, the mould of the body being altered with additional fittings to replace the separate landing gear of the original version.
Markings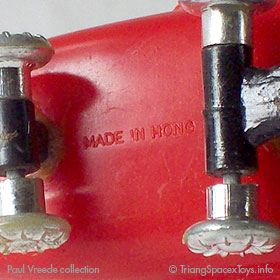 The LP space cruiser is only marked Made in Hong Kong. It doesn't carry a trademark.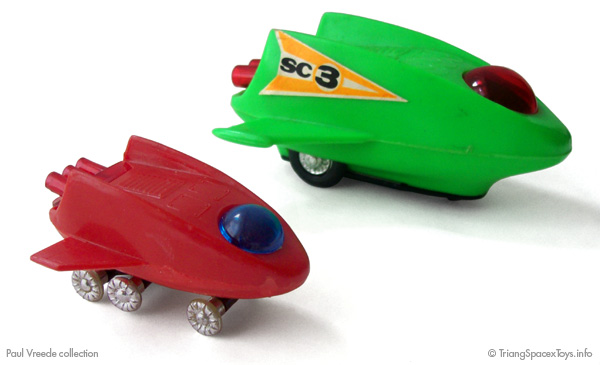 The LP cruiser is a smaller copy of a larger, friction-driven craft produced by various manufacturers, in various colours (incl plated versions). Through different stickers, these craft would tie in with anything from Batman to Blake's Seven to try and boost sales.
The green version shown here was produced by Blue Box in Singapore, and is marked with that brand at the rear. It was part of a series of four different spacecraft illustrated on the cardboard rider below. At various points in time, Blue Box sold these toys individually boxed, in baggies with the rider shown here, and also on blister cards (from 2nd picture on MoonBase Central blog post, opens in new window).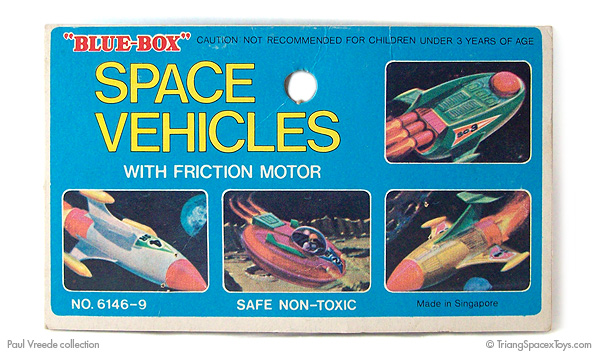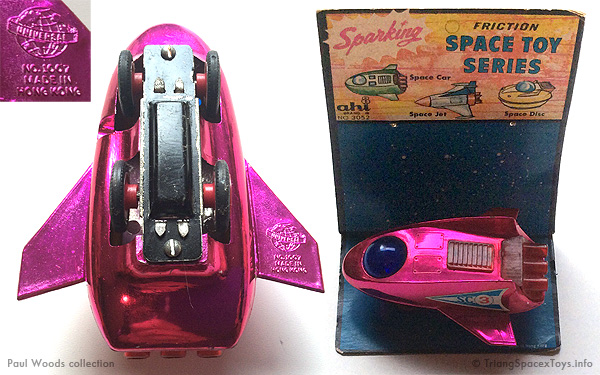 This larger-sized cruiser carries a trademark of a globe with the name Universal on a scroll, as well as the number 1007. Its construction would indicate it's earlier than the simpler Blue Box version above. It's sitting on a card by Ahi (Azrak-Hamway International), with the different reference number 3052 which would indicate a repackaging job. Note the Ahi card shows only three of the four craft subsequently offered by Blue Box.
---
Notes
Blue Box is a Hong Kong company (they're still in business), which started Singapore's first toy factory in May 1968 according to an exhibition text (at no. 40 on that page). This helps a bit in dating the Blue Box cruiser above.
All four Blue Box toys can be seen in some lovely photographs Mike Burrows posted on Moonbase Central.