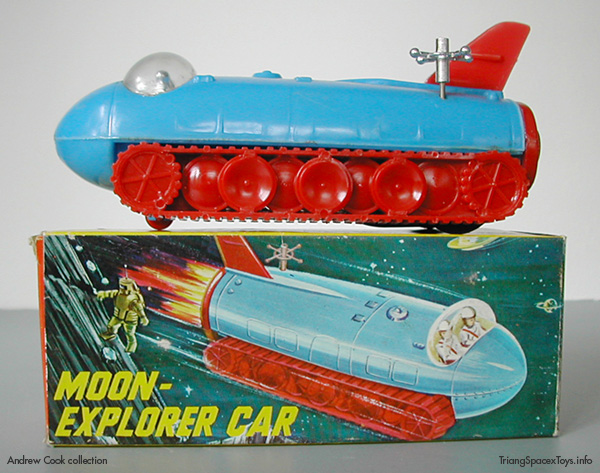 The Moon Explorer Car Is friction-powered, driving wheels hidden between the tracks as well as making he antenna turn. It has also been found with a red body on black tracks, as well as in an orange version with missile launcher shown below.
The Moon Explorer car is part of the family tree of the Spacex Mobile HQ as is shown in the Origins section (use your browser's Back button to return here).

As is evident from the instructions on the box side,
the tail came detached to reduce packaging size.
A variation of the Moon Explorer car is fitted with a missile launcher,
which it shares with various other toys by LP.
---
Note: the LP Moon Explorer Car was copied by Juguetes Pisa from Barcelona, who called it a Tractor Espacial. A catalogue page by the same company shows four other designs from LP were also taken over and given the chrome-plating treatment, including one I don't have on this site yet. In the middle of the catalogue page there's a blurb about a toy fair scheduled 15-23 February 1969, which is excellent for dating the catalogue and toys!