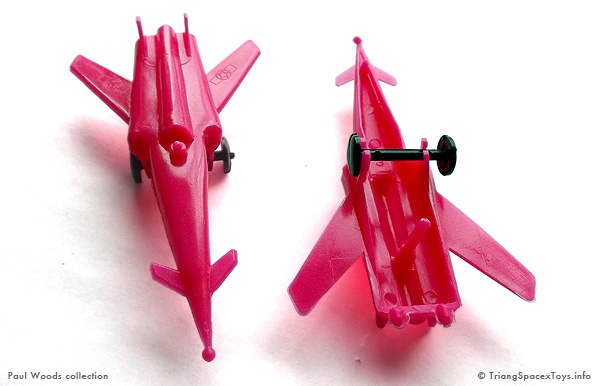 This variation of the Bullycan Hawk copy was made to equip the two Portaviones (Spanish for Aircraft Carriers) the company produced. This version differs in not having a separate exhaust or cockpit canopy (the lug holding the canopy now representing the pilot's head), a single set of wheels and a strut at the rear which can be used to launch the aircraft from the carrier deck or possibly fit it into a hole in the deck to keep it in place.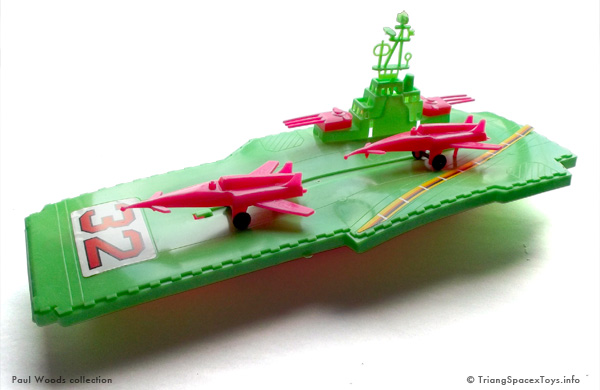 This is the smaller of the two Portaviones offered by Bullycan, Ref Nr 321, which carries two Hawk copies. The higher number suggests it was made later than the larger one (see below) and could also have been a replacement at lower cost. It came packed in a simple plastic bag with a standard cardboard rider plus a separate sticker with the actual product details (where it appears this carrier is named Dédalo (Spanish for Daedalus), after the flagship carrier of the Spanish navy, which looked a bit different :).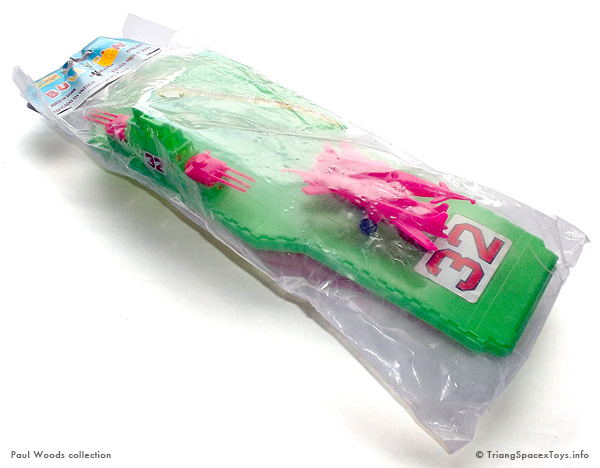 Size
Length
Width
Height
Height w mast
12 2/5 in
4 4/5 in
2 1/3 in
4 in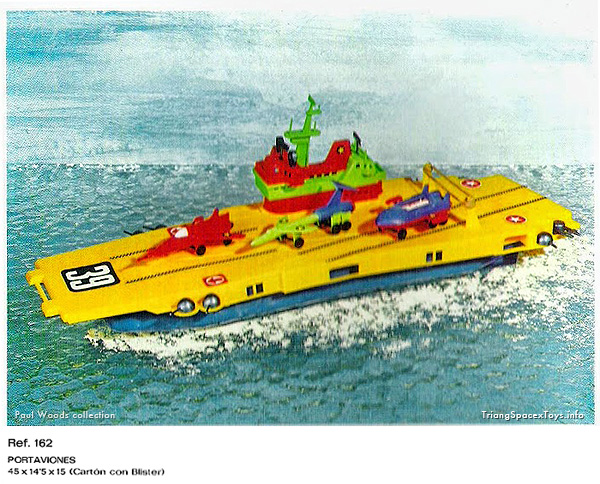 This catalogue picture shows the larger, earlier Portaviones Nr 162, which came with the three different Aviones Cosmicos as shown. This carrier features a rubber band acting as launch catapult. The catalogue also lists the sizes repeated below.
A production example turned up on a sales site in Spain the other day, in pale khaki-grey with dark grey tower island and three dark green Hawks which did have cockpit canopies in white. The renumbered reference was 3162 and it was sold in a bag to save on the expense of a blister card.
Paul Woods next obtained an example of this carrier in grey-white with a red and blue tower island and packed on a large blister card (shown below). He has more pictures on his blog. (opens in new window)
Size
17 7/10 in
5 7/10 in
5 9/10 in