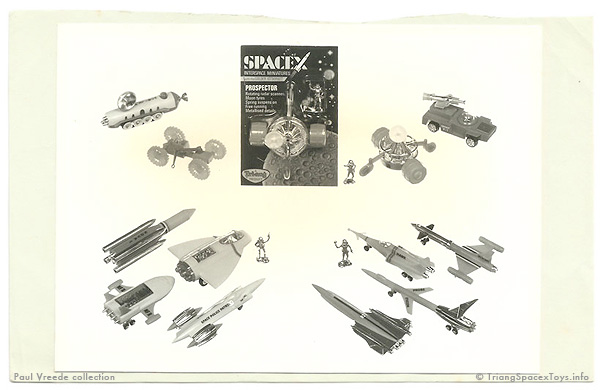 Issued by the Group Press Office of Lines Bros Ltd on behalf of subsidiary Rovex Industries, this press release photograph came with a brief text introducing the original Spacex Stage One range of toys. It measures 16.8 x 12 mm or 6 5/8 x 4 3/4 in.
I believe the text was stuck to the back of the photograph at whatever editorial department received this copy, for other pictures on other topics offered by the same seller had received identical treatment. Unfortunately the adhesive used has left a brown stain on all these pictures and their accompanying notes. And unfortunately the seller has ignored repeated questions about where these pictures came from, so finding a printed example of this exact press release will remain very tricky. The same picture was used in another PR feature included on the next page of this section.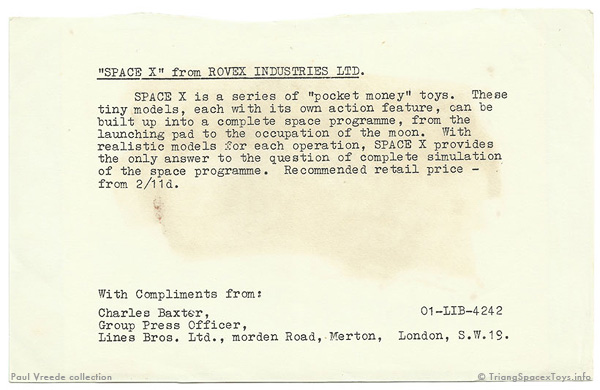 Because the photograph doesn't show any larger toys, I believe it will have been taken before these were produced. The text however does mention a launching pad, and indicates more expensive toys/sets are available without going into details. The price of 2/11d (2 shillings and 11 pence pre-decimal) is for a single vehicle on blister card. The 01-LIB-4242 I presume to be the press release reference number.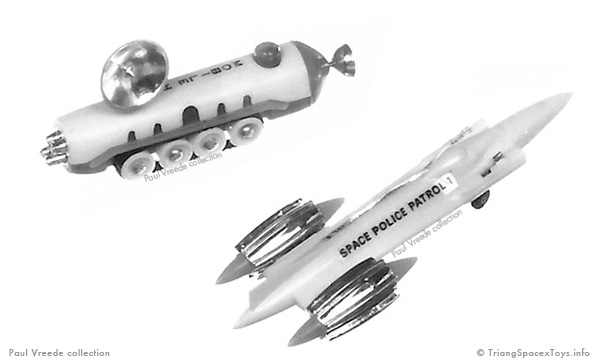 The photograph contains a few intriguing details. First off is the top half of the Mobile HQ, which shows a distinct door shape, and taller, more rounded window openings. The vehicle's radar dish has a smooth inside as well, without the concentric ribs we're familiar with.
Next is the Space Patrol craft, which is marked as Space Police Patrol 1, and which will be the yellow version with red engine nacelles shown on card backs and the publicity photograph used in the Sears catalogues. Whether either vehicle was actually produced with these features is anybody's guess - I've always assumed they were pre-production items but have no way to be sure.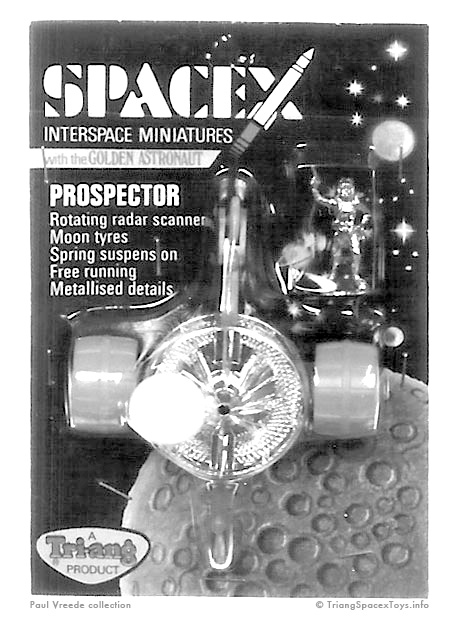 The final detail of note is the blister on the card. It has been stapled to the card, and has the Prospector vehicle sitting exactly vertical. This vertical layout will be the original one, neatly fitting the vehicle around the text on the card.
---
Previously offered as a Moonbase Central Blogiversary special, here's a high resolution TIFF file of the photograph, minus the stain (opens in new window, or download by right-click and "Save linked file as", "Save target as" or similar).