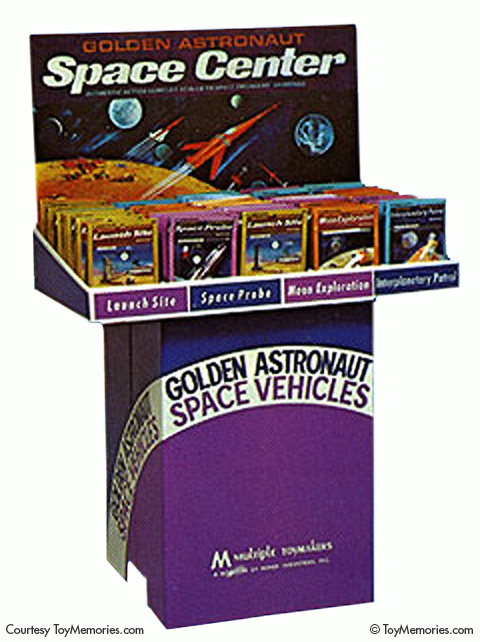 The 1970 dealers' catalogue from Multiple Toymakers shows this beauty: a cardboard shop display that appears to hold 30 blister cards at a time, thus making two each of the 15 different cards available for sale.
The catalogue mentions the size as being just over 29" x 9" x 46" (74 x 23 x 117 cm) to the top of the rider card, and states it's delivered with 6 dozen assorted cards. These cards were "preloaded", which might imply that two trays may have been included. Looking at the base of the display, it appears to have a fold in the side which could mean it was delivered flat instead of doubling as a shipping container for the trays.
The rider card illustration is in the same style as the box top for the GA Super Set, itself reminicent of that on the Spacex Superset 1 box top. It features a moon base and various vehicles on the lunar surface, with a Hawk, Reconnaissance craft, Mercury and Needle Probe flying overhead.
(As a note, I am hoping for better quality scans to replace the blown-up picture above).