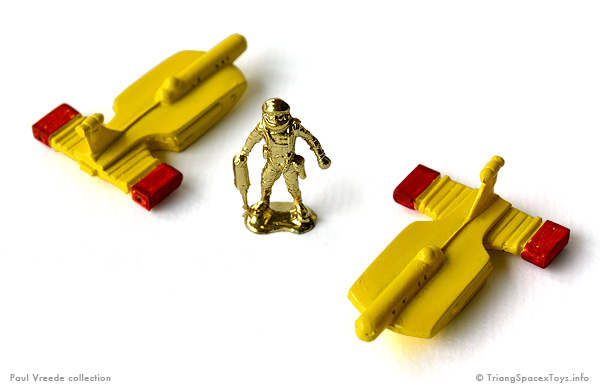 Ravenstar Studios (1) in Texas produce finely-crafted science fiction gaming pieces in resin, including many different star fleets. While reading the Moonbase Central blog, modelmaker Velbor saw Eric Eden's illustration of the craft that also inspired the Spacex Nuclear Freighter/Salvage Craft, and decided to make a miniature version to include in the Ravenstar Retro Ships fleet. Once produced, Paul Woods bought a number of these tiny craft to paint up in the colours of the Spacex version, a very few of which he offered for sale in a small Spacex-type blister card (2) produced together with Bill Bulloch. The main picture above shows one of these painted examples; the overview below shows the Retro Fleet including the other models.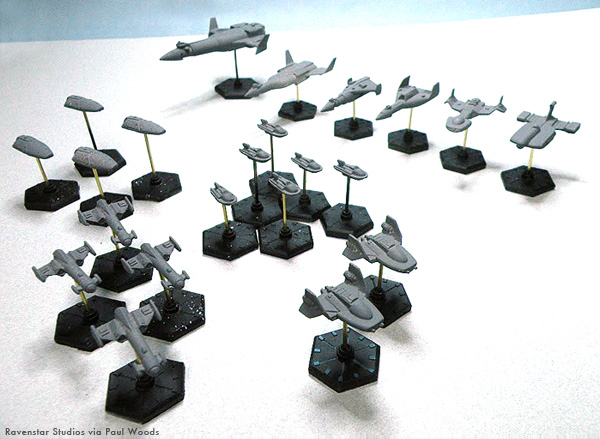 The Retro Ship fleet by Ravenstar Studios (now out of production I believe)

Becaude the Ravenstar ship is actually based on the Eric Eden illustration, it has a few details that the Spacex version probably doesn't have, such as the bulge at the top of the tail and the cockpit windows in the nose.
---
1: At time of writing, Ravenstar Studios are apparently preparing a new website, but can still be found on their blog (opens in new window). back to text
2: See Paul's page in the Fan Custom section. Use your Browser's Back button to return here. back to text