This page contains a handful of toys sold under the JR21 Toys brand, which they share with the Thunderbirds toys on the next page and the X-60 on the previous page. The toys here may have been distributed beforehand by Rosenthal & co in unbranded boxes, and may have continued to be available in Century 21 branded boxes. And some toys we know exist in Century 21 branded boxes may possibly also have been previously sold as JR21 toys. Since it's the branding on the box that makes the difference - the toys themselves carrying a variety of trademarks or none at all - we're limited to those toys that have survived in their boxes. But who knows what may still turn up in the future?
Note product numbers are as stated on boxes, but since these could also be the original manufacturers' reference numbers, they might not necessarily tie into a chronological sequence.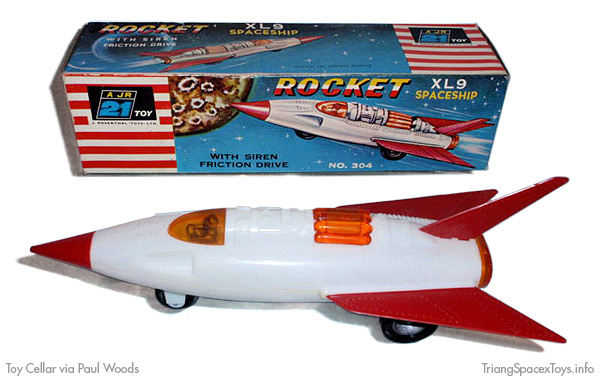 Rocket XL9 Spaceship - No. 304
Featuring friction drive making a 'siren sound', this spaceship is 23.5 cm / 9 1/4 in long. It was also sold under the competing Hoover brand, and would provide the base for the Project Sword Probe Force 3 spacecraft (both pictured on the Project Sword toy page - use link on that page to return here).
---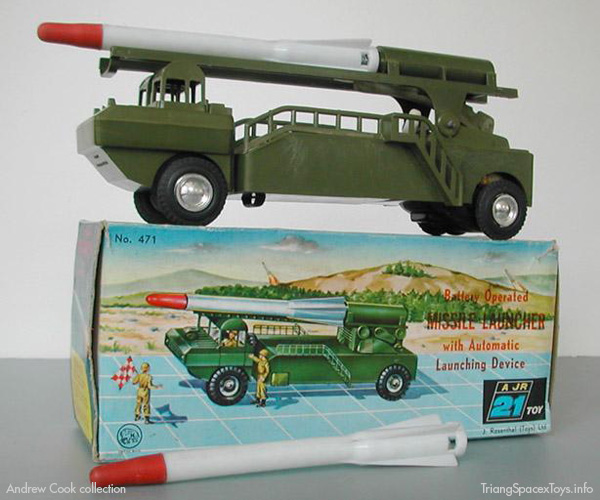 Missile Launcher - No. 471
Battery operated with missiles being launched automatically, as it says on the box. Next to the prominent JR21 markings, the box flaps also include a small trademark which features an elephant in an outline circle with the letter 'H' on his side, being that of the original manufacturer (we sadly don't know who this may have been). The toy itself is 21.6 cm / 8 1/2 in long and is unmarked.
---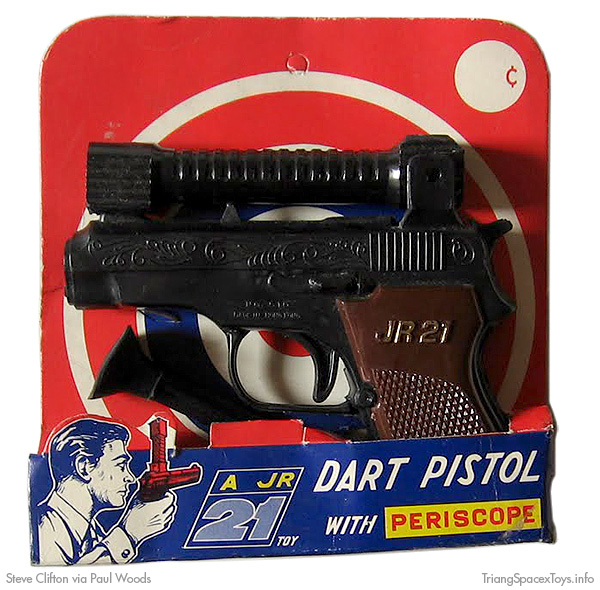 Dart Pistol - No. 510
This dart pistol features a periscope sight that can be swivelled upwards. The product number is moulded on the side of the gun and appears to read 510. The gun exists in other versions for other brands including one with different markings on the grip.
---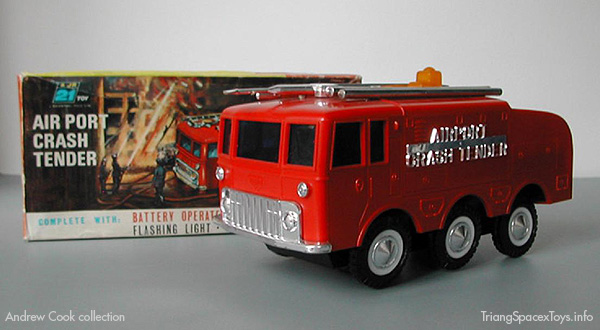 Airport Crash Tender
Produced by Lucky Toys and marked as such underneath, this Crash Tender is battery operated with 'self-steering action' (presumably bump'n'go) and also features a siren and flashing lights. It's based on a real-life vehicle, which inspired other toy versions by f.ex Telsalda and Matchbox (the friction-driven Telsalda toy being a bit smaller than the Lucky/JR21 version).
---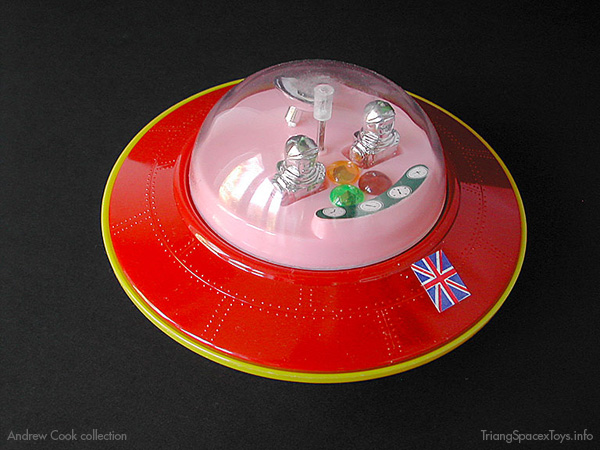 New Flying Saucer - No 36
Measuring some 15 cm / 6 in in diameter, this battery-operated flying saucer features bump'n'go action, and a rotating radar dish and flashing lights inside the dome. Underneath it's marked with the Tarheel T-in-a-circle trademark, No 36 and Made in Hong Kong in capital lettering. The word 'new' in the name on the box is intriguing to say the least!