This page contains toys carrying the trademark of JR monogram in a diamond, having it moulded in underneath or at the very least on their packaging, on the assumption that this trademark was indeed Rosenthal's (as argued on the JR main page). These toys have been sourced from a number of manufacturers in Hong Kong, but it would appear the product numbers are Rosenthal's own - the Comicars and Duck Car having sequential numbers but different manufacturers.
Quite a few toys shown below are co-branded, on toy, box or both, by HSI Associated Ltd, who will have been their actual manufacturer. Toys carrying the JR monogram alone might be later than co-branded toys. As is evident from the sample of toys shown here, Rosenthal's earlier offerings included as many novelty items as there were toys based on real-life vehicles.
As a note, quite a few of the novelty toys shown below have also been found in the US (my Quacky Duck Car came from there too). Presumably manufacturer HSI delivered to a US importer as well, since it would make no sense for Jack Rosenthal to re-export toys from Britain.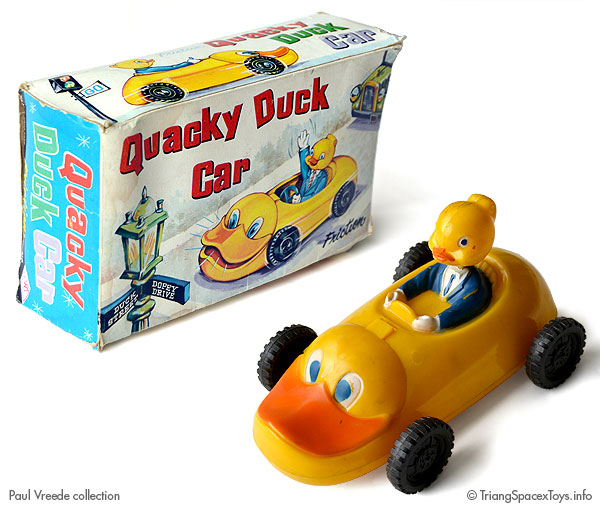 Quacky Duck Car - No. 316
This toy was distinctly remembered by Robert Nicholls, who was on the J Rosenthal (Toys) Ltd sales team in 1967. Featuring friction drive, the car's bill opens and closes while it makes a mechanical quacking sound. It is 18 cm / 7 1/16 in long, and the duck's head is loose in the box to be push-fitted onto the body.
Both car and box are marked with (only) the JR diamond, the car also bearing the nr 316 underneath. This fits in neatly with the two similar but simpler and smaller Comicars by HSI (see below), so would prove the stock numbers are Rosenthal's and not the manufacturers' numbers. There are signs to the left of the JR diamond that would indicate a previous trademark has been removed from the moulds. This would likely have been that of Polyline Manufacturers Ltd, who advertised the Quacky Duck Car amongst other toys in 1970 (lefthand page shown in second image here - use your browser's Back button to return to this page).

---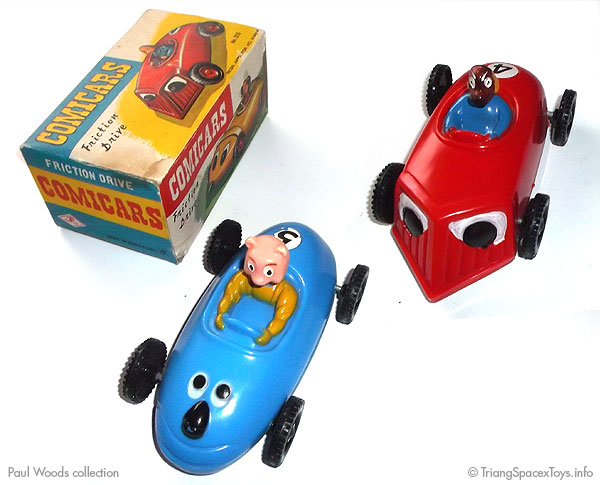 Comicars - No. 313, 314, 315
These slightly simpler Comicars have product numbers that indicate the Quacky Duck car is the next toy in the sequence. They have friction drive, and the animals' heads were also to be fitted by the toys' buyers. Underneath they are marked with the JR diamond, product number as well as a registered design number. All came in the same box that has the three different vehicles illustrated with their respective product numbers and registered design numbers. Both the trademark of manufacturers HSI Associated Ltd and the JR diamond mark are printed on the boxes' end flaps. The Comicars are 12 cm / 4 3/4 in long, so only 2/3 the size of the Quacky Duck car above.

---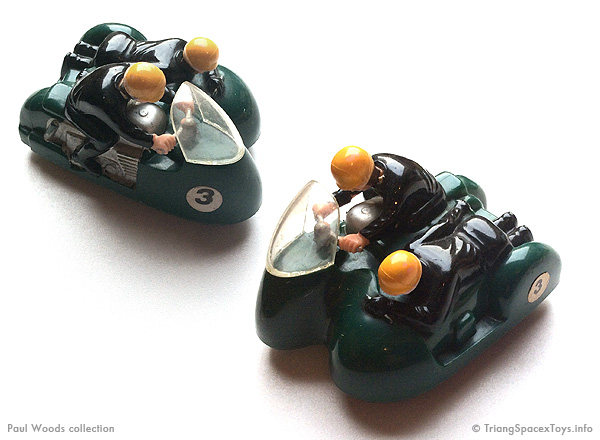 Motorcycle Combo No 301
Seen so far in blue, red as well as the green shown above (and carrying stickers with different numbers), this toy is 10 cm / 3 15/16 in long and has friction drive. It is marked underneath with the JR Diamond followed by No 301 and then 'Made in Hong Kong' followed by the HSI trademark. Moonbase Central has saved a picture of a boxed version.
---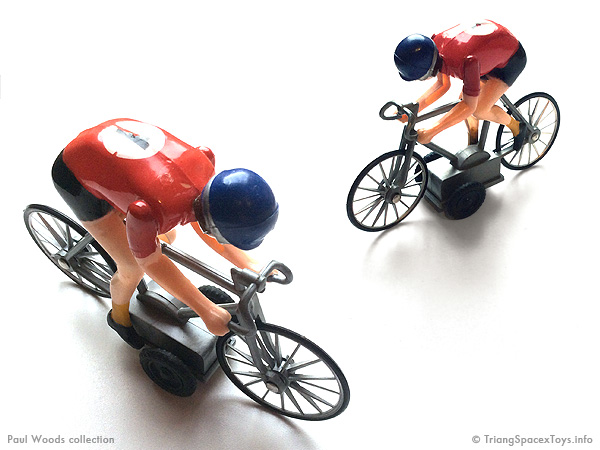 Racing Cyclist No 304
Featuring friction drive, this cyclist is 13.5 cm / 5 5/16 in long. Underneath it is marked with the JR Diamond followed by No 304 and then 'Made in Hong Kong' on a new line. Moonbase Central has saved a picture of a boxed version with helmet and jersey in different colours.
---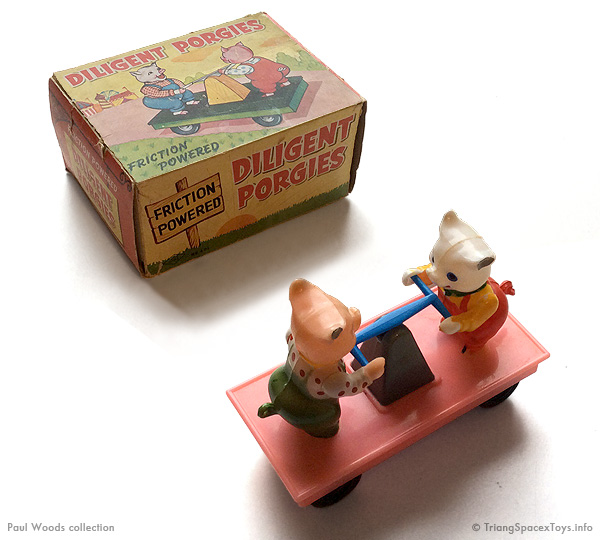 Diligent Porgies No 401
This toy is 12 cm / 4 3/4 in long and is powered by friction drive. A crank on the other axle makes the cart's handle move up and down, which animates the pig figures as well. The drive housing is marked underneath with the HSI monogram and the JR Diamond with 'Made in Hong Kong' on a new line. Other versions exist where the cart, handle and handle base are each in different combinations of pink, blue and grey.
---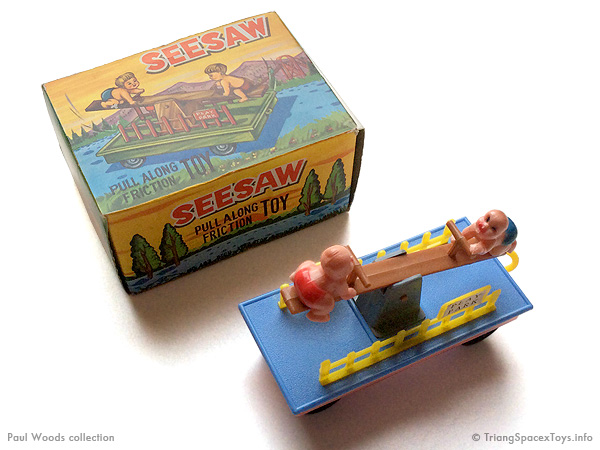 Seesaw No 403
Another version of the basic Porgies cart has a rocking seesaw with two small children on it. Inbetween the Porgies and Seesaw toys is a rocking horse on the same basic cart, called Rocking Neddy with nr 402. Moonbase Central has a picture.
---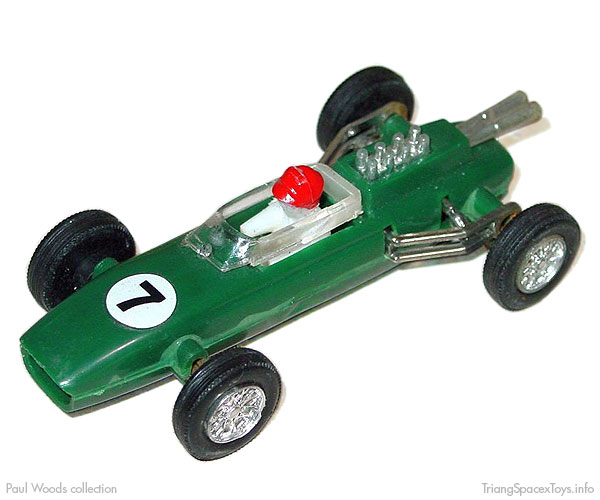 Formula 1 racing cars - Lotus No 810 - Lola No 811 - BRM No 813
Three examples from a series of friction-driven British formula 1 cars, each 8.5 cm / 3 3/8 in in length. The JR diamond and product number are moulded in underneath each car. We don't know which type of car the missing nr 812 may be, nor how many cars there are in the series or whether any non-British racers were also included.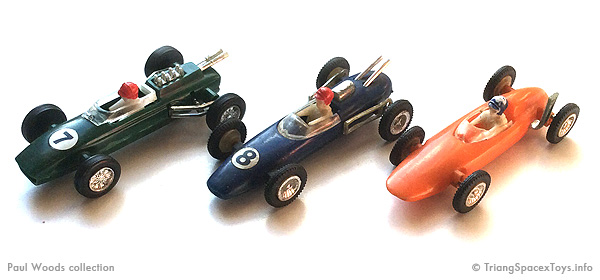 ---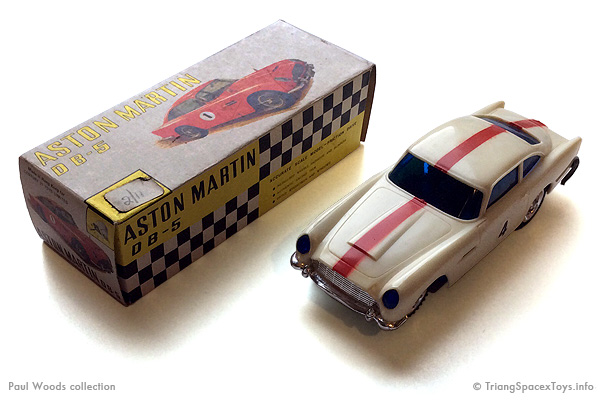 Aston Martin DB5 No 203
This very nice model of an Aston Martin DB5 in racing colours is 14 cm / 5 1/2 in long and has friction drive. It's marked underneath with the JR Diamond and No. 203 Made in Hong Kong. Although this example came in a box marked with the Century 21 Toys trademark (introduced in mid-1967), the real-life DB5 was on sale from 1963, making it entirely possible this toy was already in production before the company changed names and may have been sold in an earlier box with earlier trademarks. As a note, the price of 2/11 (2 shillings 11 pence) on the sticker seems rather cheap (it's the same price as a single Spacex Stage 1 vehicle on blister card, which is smaller and simpler) so will very likely have been a discount price.
---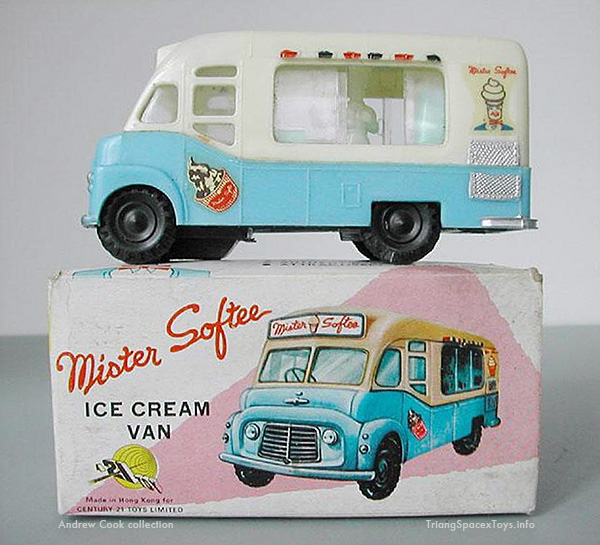 Mister Softee ice cream van
To close off, this ice cream van is marked with the JR Diamond underneath, but also sold in a box with Century 21 Toys trademarks, illustrating that Rosenthal and co very much continued to sell toys not related to Anderson productions after the company changed name. This van is 11 cm / 4 5/16 in long, has friction-driven front wheels, and a metal knob underneath to turn the ice cream vendor figure inside. This last feature is exactly like that found on the smaller, diecast Corgi Toys version of this van (produced 1963-66), so I expect the plastic version to have been 'inspired' by that and it may well have been also available in an older box with JR markings.
(The Corgi version can be seen here and here (slide picture gallery to right to see turning knob).